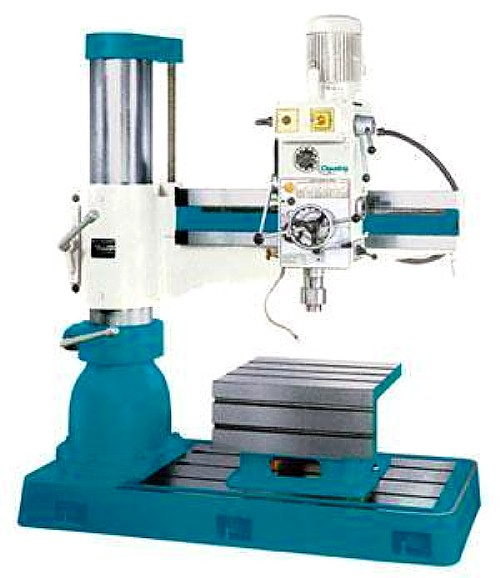 Clausing CLC1250H NEW RADIAL DRILLS
Price on Request
Make:

Clausing
Model:

CLC1250H
Year:

NEW
Ref #:

149381
Or call us for a quote at (973) 497-7500 or send us an email at boringmills@machineryvalues.com
---
NEW CLAUSING RADIAL DRILL
49" Arm, 25 x 20 x 16 Table, 2 3/8" Cap, 5.0 hp
MODEL: CLC1250H
Clausing Radial Drill Features and Standard Equipment:
Equipped with independent clamping unit. Vertical movement of the arm is coordinated by an IC Timer. With a single touch on the push button switch, you can have arm unclamped on column and move vertically, or stop clamp automatically. Very easy to operate arm will maintain the same position after shifting.
Gears are cooled and lubricated by an oil pump to minimize gear wear.
Friction type disc clutch absorbs impact force caused by vertical movement of spindle and protects all transmission units inside gear-box. With quick spindle return, the clutch will help speed-up the tapping operation.
Special automatic tool eject device is supplied to allow you to change tools quickly. (No drift is required).
Special arm elevating device prevents arm from dropping abruptly after years of usage.
Coolant System
Tool kit and manuals
25" x 20" x 15" Box Table
Spindle Guard
Standard 230 volt 3ph other voltages may require a transformer or special order.
Clausing Radial Drill Specifications
Working Area
Column Sleeve Dia. ( E ): 11.81"
Column Face to Spindle Center
Maximum (D+C): 49.21"
Minimum (D): 14.17"
Spindle Head Travel ©: 35.04"
Base Surface to Spindle End
Maximum (A): 52.95"
Minimum (B): 17: 36"
Arm Vertical Travel (A-B): 28.1"
Arm Rotation (Right & Left): 180 deg.
Baseplate Working Surface: 48" x 29.1"
Box Table Area
Length (L): 25.1"
Width (K): 20.4"
Height (H): 16.5"
Base Dimensions
Floor Area (R x S): 70.3" x 30.9"
Height (Q) : 7.8"
Capacities
Drilling
In Steel: 1.97"
In Cast Iron: 2.36"
Tapping
In Steel: 1.57"
In Cast Iron: 1.97"
Drilling Head
Spindle Taper:5MT
Spindle Stroke: 10.63"
Quill Diameter: 3.15"
Number of Spindle Speeds: 12
Spindle Speeds (rpm): 56-1450
Number of Feeds: 3
Spindle Feed Rate (in/rev.): .0023", .0004", .008"
Spindle Drive Motor: 5 hp (2sp)
Elevating Motor: 1 hp
Clamping Motor: 1 hp
Coolant Pump Motor: 1/8 hp
Overall Measurements & Weight
Maximum Machine Height (F): 104.1"
Base & Column Height (G): 81.9"
Shipping Dimensions (L x W x H): 81.1"x39.2"x88.2"
Net Weight: 5,071 lbs
Shipping Weight: 5,512 lbs
OPTIONAL EQUIPMENT (CALL FOR PRICING):
CLS100 Large Tilt Table 32 x 28 x 24
CLS101 Small Tilt Table, 20 x 20 x 23
CLS102 Extra Large Box Table, 39 x 31 x 19
CLS102B Extra Standard Box Table 25 x 20 x 16
CLS-SBM5 Spindle Braking Motor 10Hp (factory installed)
CLS-CE2 CE Electrics (factory installed)
CLS-CSA3 CSA\UL Electrics (factory installed) (non-certified)
CLS-200A Auto Reverse Tapping Feature 5MT (factory installed only)
WARRANTY:
Clausing warrantees the machine and control for a period of one year from the date of installation. This warranty does not cover normal wear items such as filters and belts or damage that results from the misuse or abuse of this equipment.
**Due to continual improvements, prices and specifications subject to change without notice**
---
DISCLAIMER: The information presented in the write ups and the photographic representations of the equipment are believed to be accurate at the time the pages are created. The information presented on the web site should not be used for formal quotation. Price and information presented in the write ups on the web site are subject to change without notice. Machinery Values claims no responsibility for inaccuracies of the information presented on the pages of this website. Please contact one of our sales representatives if you require more information or a current formal quotation.
We're here to help
Looking for a specific machine?
Address
401 Supor Blvd.
Harrison, NJ 07029
Phone
Voice: (973) 497-7500
Fax: (973) 497-7501
Email
sales@machineryvalues.com
Address 401 Supor Blvd.
Harrison, NJ 07029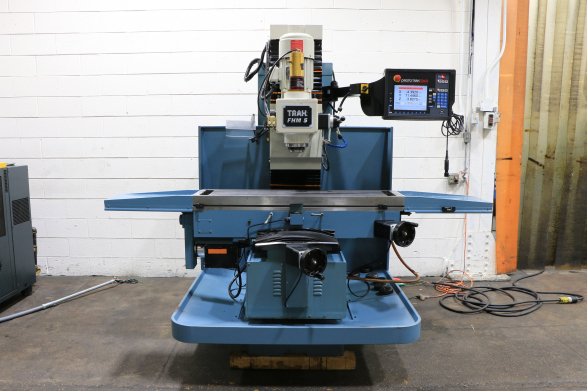 Subscribe to Receive our Most up to Date Machinery Listings
For our latest machines and inventory, sign up to receive our weekly email to be first to bid on a machine.