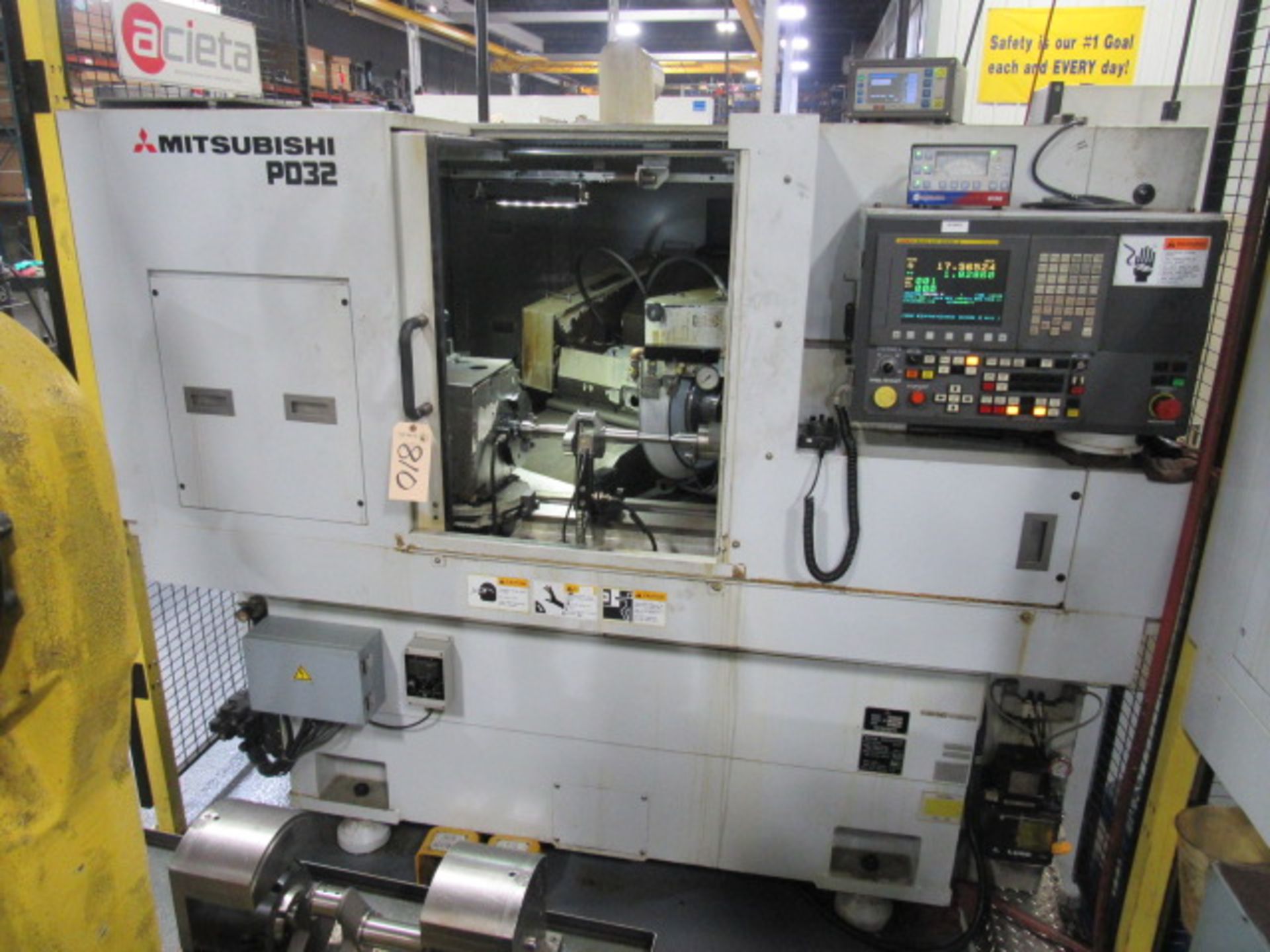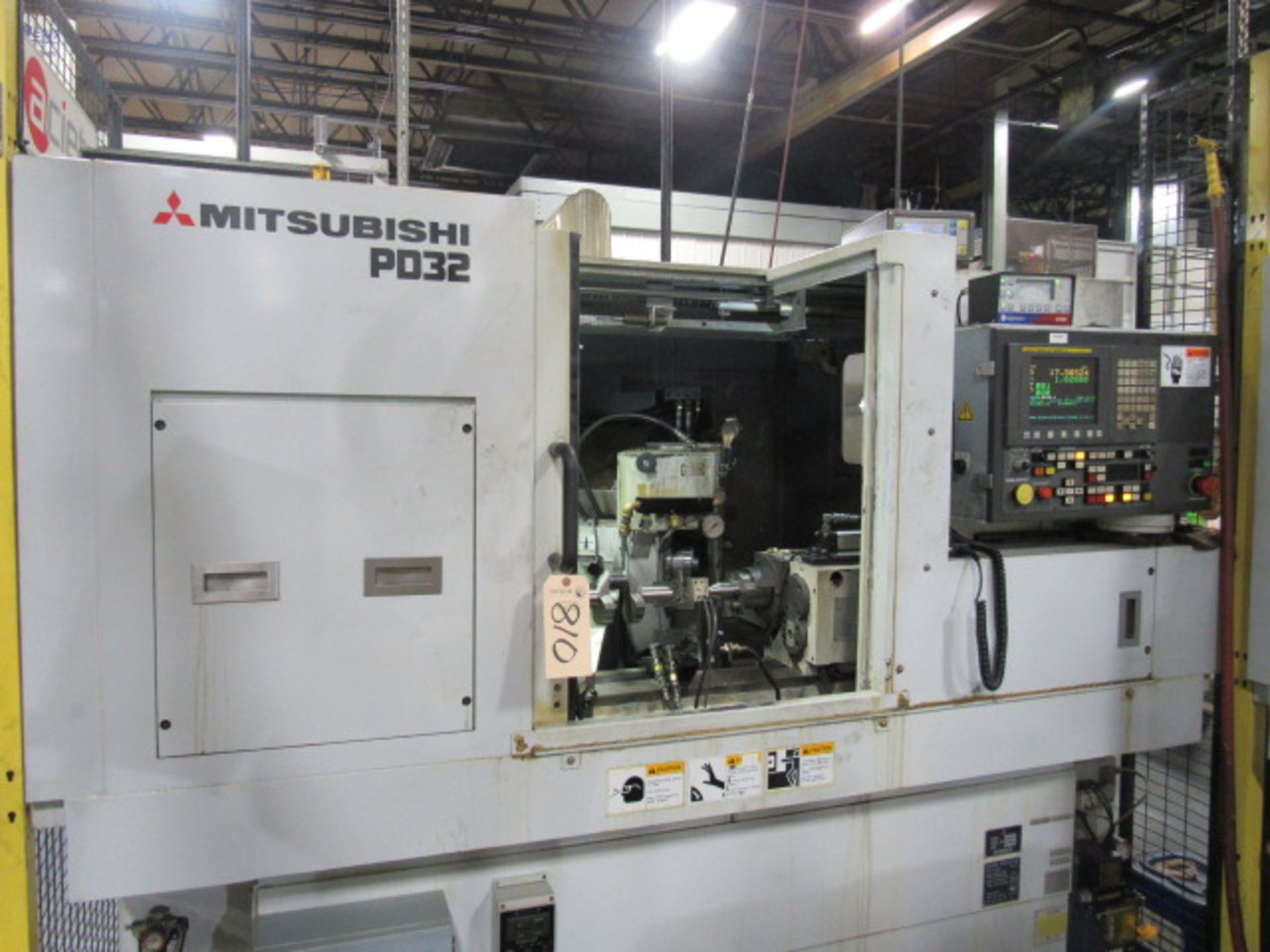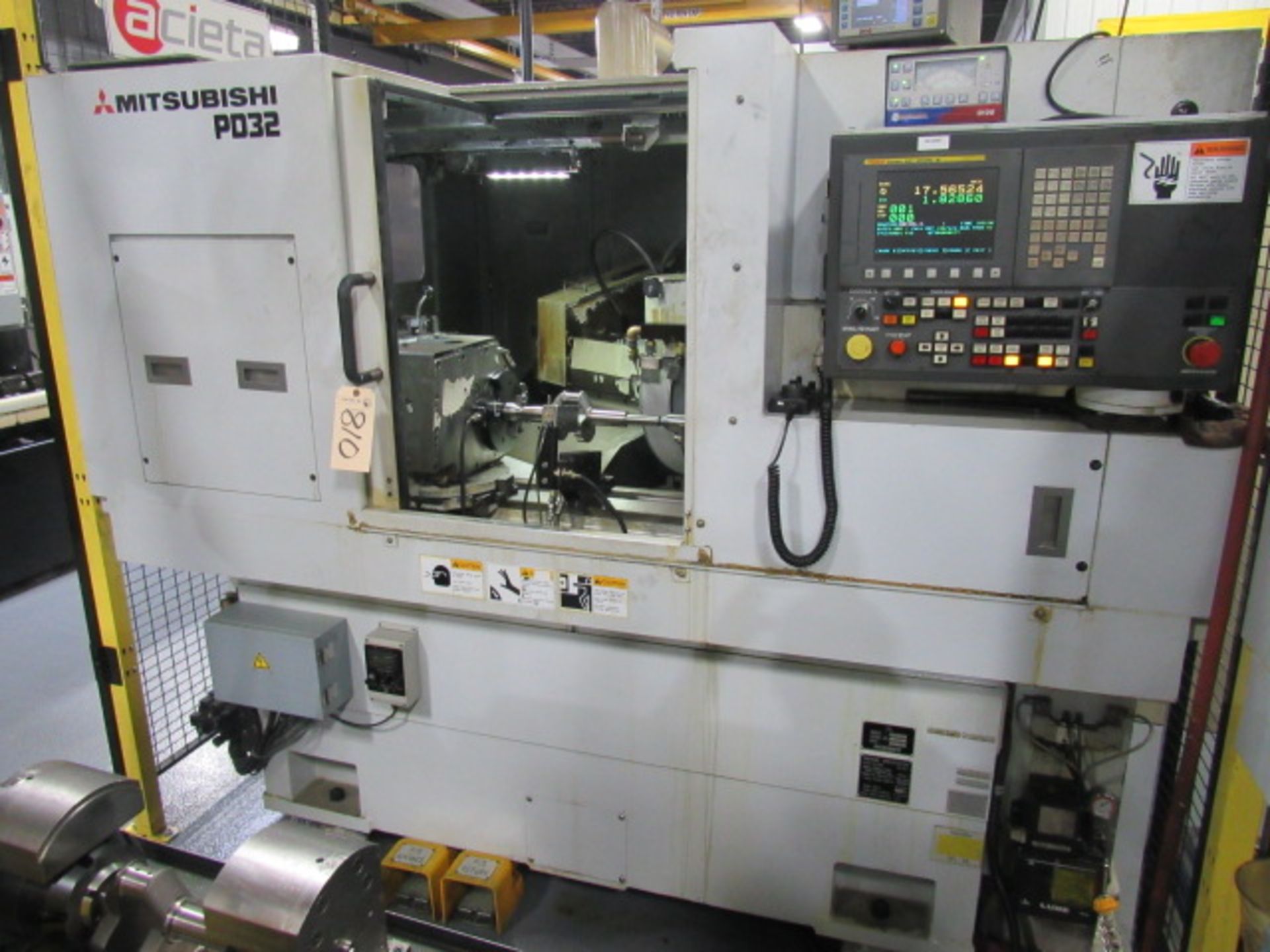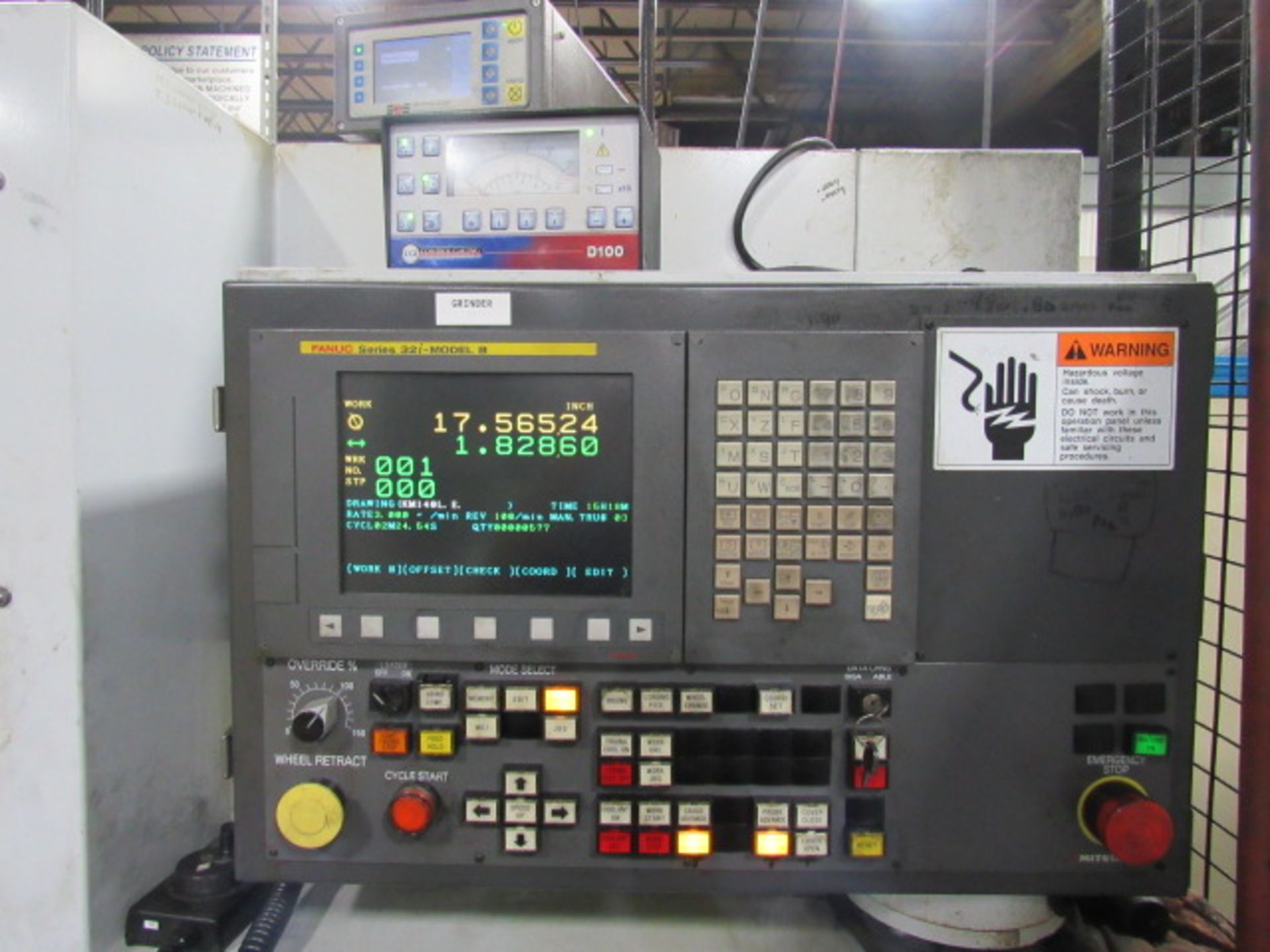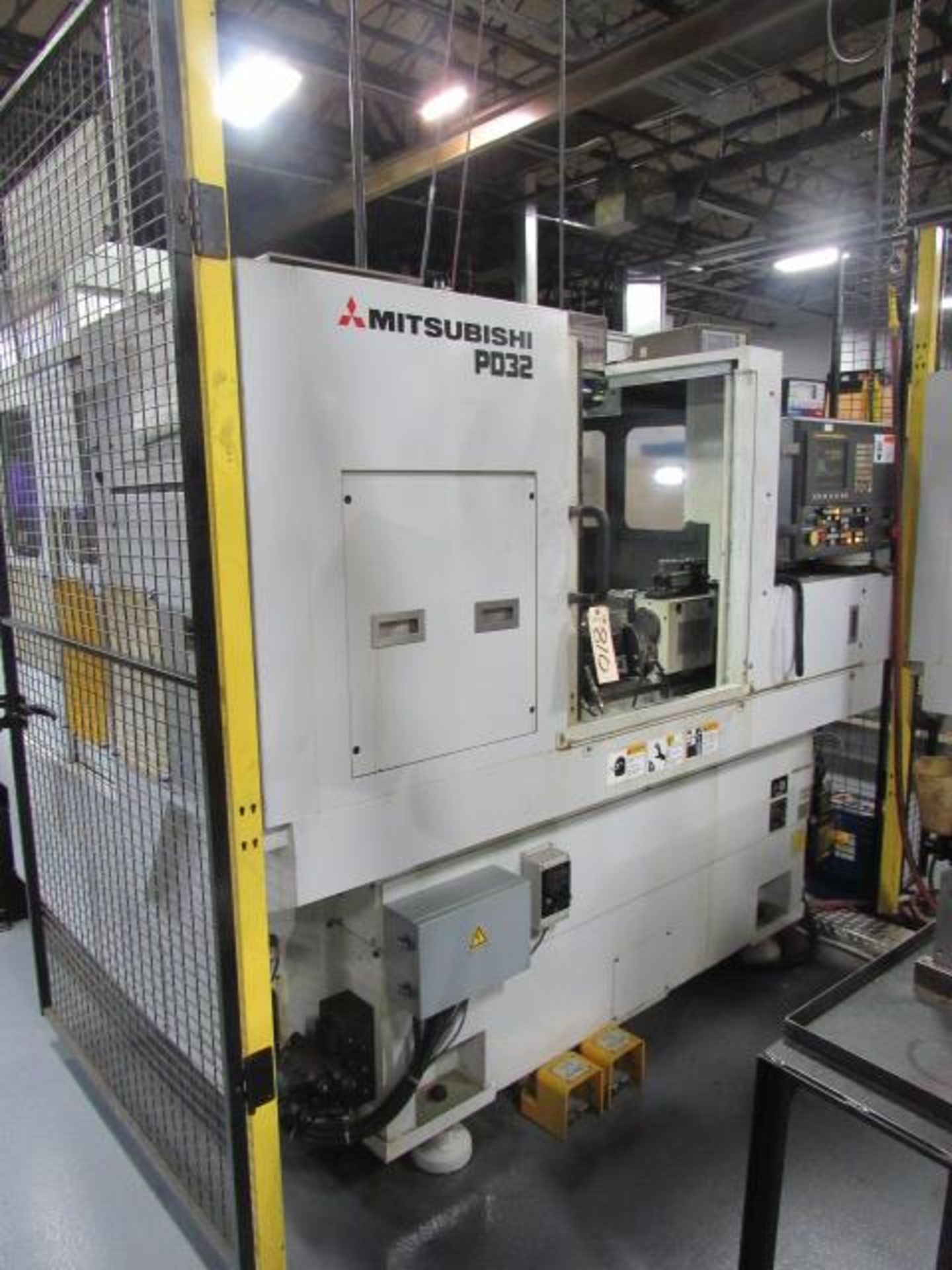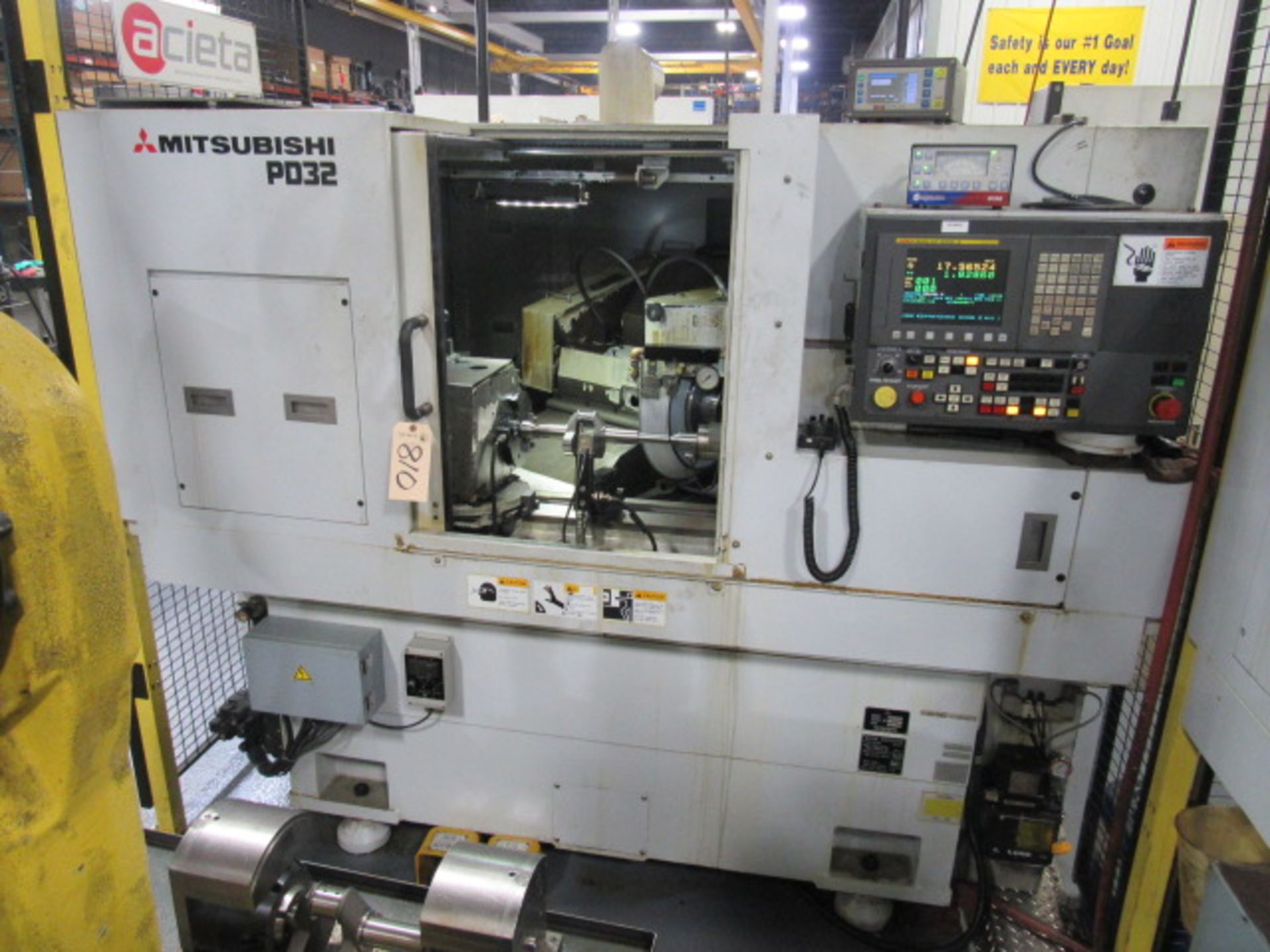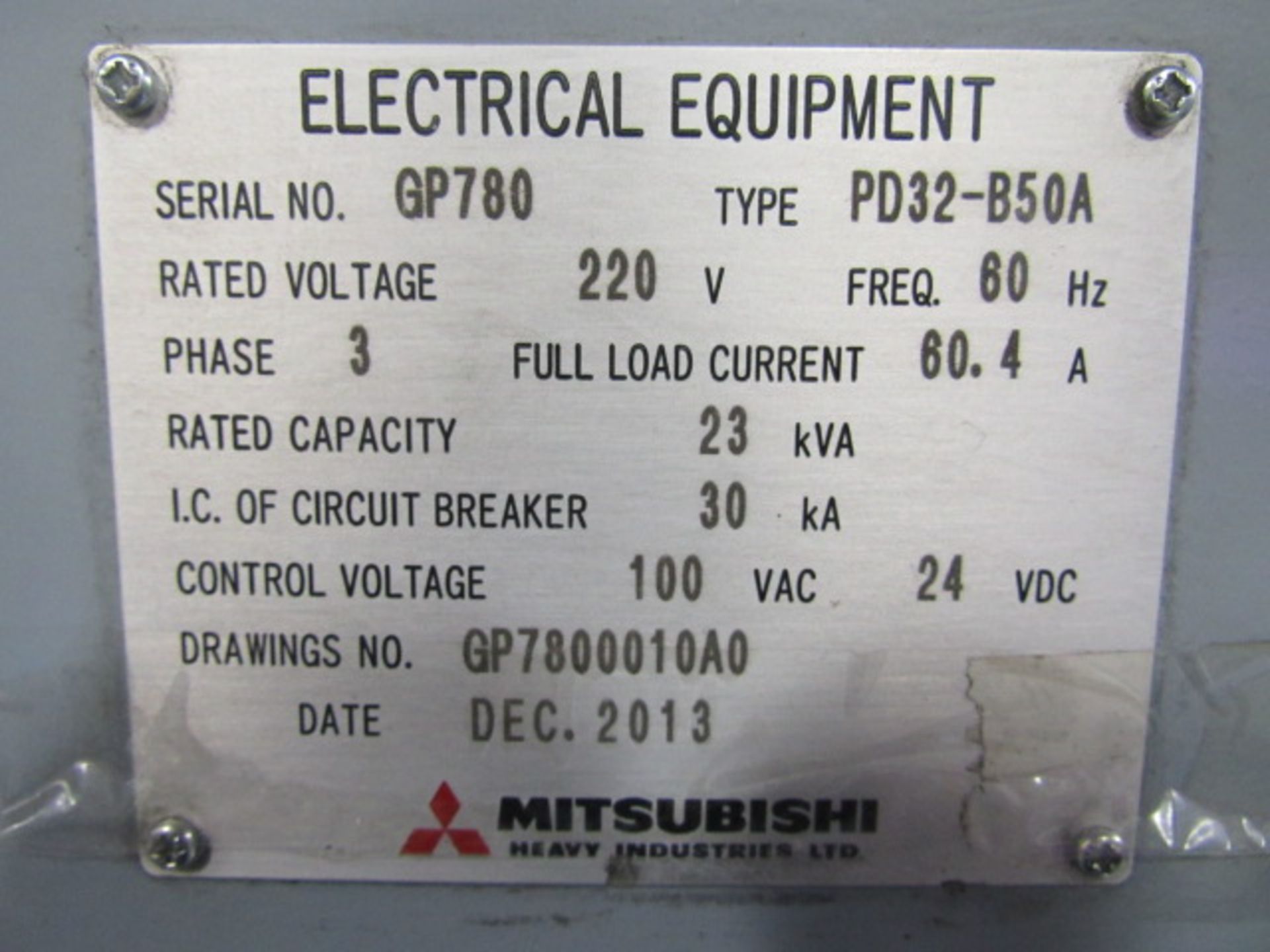 Mitsubishi PD-32-B50A, FANUC 32i-B CNC, SBS WHEEL BALANCE, CNC ANGLE HEAD CYLINDRICAL GRINDER
Price on Request
Make:

Mitsubishi
Model:

PD-32-B50A, FANUC 32i-B CNC, SBS WHEEL BALANCE,
Year:

2014
Ref #:

160314
Or call us for a quote at (973) 497-7500 or send us an email at grinders@machineryvalues.com
---
MITSUBISHI CNC ANGLE HEAD CYLINDRICAL GRINDER
** MASS-PRODCUTION CNC CYLINDRICAL GRINDING MACHINE "P" SERIES **
MODEL: PD32-B50A S/N: GP780 MANUFACTURED 12/2013 - INSTALLED 2014
Even Novice Operators Can Easily Program and Operate
Optimized conditions are automatically set with the same degree
of expertise as experienced operator. Adaptation control is utilized
for the automatic measurement device, realizing automatic setups
for speed switching points between the rough and the fine grindings
even for the first workpiece model that has been time-consuming
in conventional machines.
With conversational graphical programming software, data can
be edited easily with minimum key commands.
High-Accuracy Grinding and Stable Quality
The advanced fluid technology, which has been developed over
time in our Aircraft Division, is applied to the bearings of
machining tool. This enables highly-rigid rotation to the order
of a submicron and results in high-accuracy machining.
High Productivity
Wheel peripheral velocity of 60 m/s (or 80m/s, optional) realized
high-speed heavy-duty grinding. The grinding wheel of 120 mm
(or 145 mm, optional) width enables heavy-duty plunge grinding
in a single stroke.
The high-speed locater has shortened the measurement time.
Measurement by longitudinal locator takes only 4 seconds.
Easy Automation and Incorporation Into Production Line
Adoption of fixed-table design enabled narrow-width machine
structure, facilitating automation and incorporation into
production line.
Various autoloaders and robots are optionally available to
meet your specific needs.
Excellent Performance and Solid Safety
Color LCD display is equipped as standard for enhanced visibility
Graphical displays of path check, machining area indications and
so on ensures steady operations.
Safety is ensured by the triple checking functions
(machining program, grinding path, and wheel motor overload detection).
SPECIFICATIONS:
SWING .............................. 12.6"
MAX. CENTER DISTANCE ............... 19.7"
MAX. WORKPIECE DIAMETER ............ 11.8""
MAX. WORKLOAD....................... 330 LBS.
WORKHEAD& TAILSTOCK CENTER TAPER.... #4 MT
WHEEL SIZE.......................... 20"DIA. X 5.5" WIDE
WHEEL RPM .......................... 14O8 RPM
TABLE, RAPID TRAVERSE RATE ......... 66' FPM
TABLE FEED RANGE (IPM).............. 0.00004" TO 787.4"
WHEELHEAD, RAPID TRAVERSE RATE ..... 66' FPM
WHEELHEAD FEED RANGE (IPM) ......... 0.00004" TO 787.4"
COMMAND UNIT ....................... 0.000004"
WORKHEAD SPINDLE SPEEDS ............ 10 TO 500 RPM
WORKHEAD SPINDLE TAPER ............. #4 MT
TAILSTOCK STROKE ................... 5.9"
TAILSTOCK SPINDLE TAPER ............ #4 MT
WHEEL HEAD MOTOR ................... 15 H.P.
DIMENSIONS (APPROX.)................ 124"L X 106"D
EQUIPPED WITH:
HYDRAULIC TAILSTOCK
"CONTROL GAGING" MODEL D100 AUTOMATIC IN-PROCESS GAGE
"SBS" AUTOMATIC WHEEL BALACING SYSTEM
COOLANT SYSTEM w/PAPER FILTRATION
** INSPECT IN UNDER POWER IN OUR HARRISON, N.J. WAREHOUSE **
** SUPERB CONDITION & APPEARANCE - WOW! **
---
DISCLAIMER: The information presented in the write ups and the photographic representations of the equipment are believed to be accurate at the time the pages are created. The information presented on the web site should not be used for formal quotation. Price and information presented in the write ups on the web site are subject to change without notice. Machinery Values claims no responsibility for inaccuracies of the information presented on the pages of this website. Please contact one of our sales representatives if you require more information or a current formal quotation.
We're here to help
Looking for a specific machine?
Address
401 Supor Blvd.
Harrison, NJ 07029
Phone
Voice: (973) 497-7500
Fax: (973) 497-7501
Email
sales@machineryvalues.com
Address 401 Supor Blvd.
Harrison, NJ 07029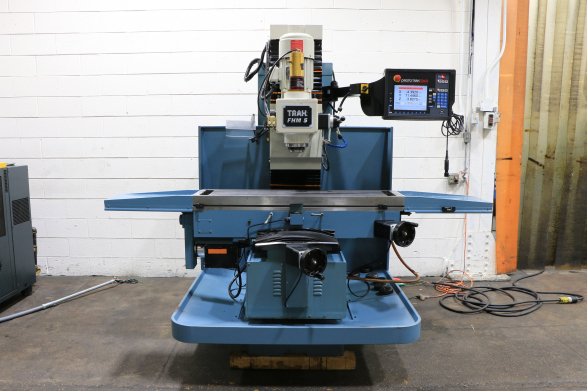 Subscribe to Receive our Most up to Date Machinery Listings
For our latest machines and inventory, sign up to receive our weekly email to be first to bid on a machine.