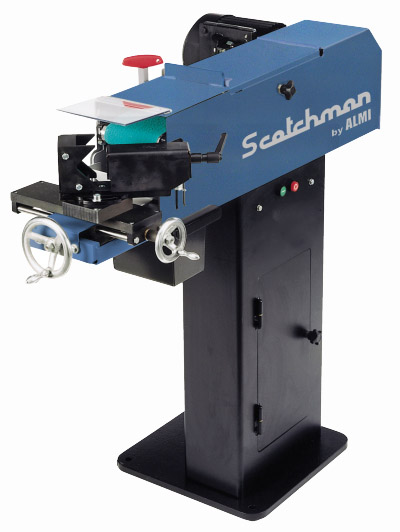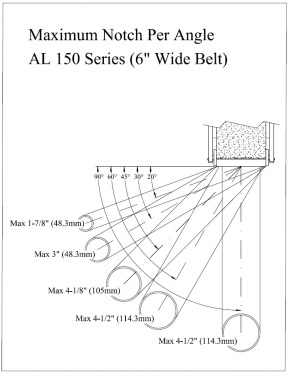 Scotchman AL150 Notcher & Grinder NEW NOTCHERS
Price on Request
Make:

Scotchman
Model:

AL150 Notcher & Grinder
Year:

NEW
Ref #:

158954
Or call us for a quote at (973) 497-7500 or send us an email at rl@machineryvalues.com
---
NEW SCOTCHMAN MODEL: AL150 - 3 ph GRINDER/NOTCHER
DESCRIPTION:
The AL150 produces gap-free fits ready for welding, with minimal vibrations.
This grinder/notcher is capable of notching 90° to 20° in tube/pipe from 3/4" to 4"
diameter in seconds. It is equipped with an easily accessible, top-mounted
deburring table to increase productivity.
CAPACITIES/SPECIFICATIONS:
Grinding Capacity: 1/2" to 4" O.D (12.7 mm to 114 mm)
Angle Range: Straight=90° to 20°
Belt: 6" x 78-3/4" (150 mm x 2000 mm)
Belt Speed: 98.4 Feet Per Second
Speed: 3420 RPM
Motor: 5-1/2 hp 3ph 230/460v
Motor (Optional) 5-1/2 hp 1ph 230v
Dimensions 59" x 47" x 26-1/2" (1499 mm x 1194 mm x 673 mm)
Shipping Weight: 600 lbs (272 kg)
STANDARD FEATURES:
Produces Gap-free Fits Ready for Welding
Smooth Operation with Minimal Vibration
Operated with Two Handwheels or a Hand Lever
Notches via Adjustments Straight=90° to 20° in Tube
or Pipe from 3/4" to 4" Diameter in Seconds
Two Axis Precision Crossfeed Table with Both Handwheels
and Hand Lever Feed Handle
Heavy Duty Frame and Base Construction
Mandrel Centerline Adjustment
One Vise Holds All Pipe and Tube Sizes
Top-mounted Deburring Surface
Easy Setup with Vise Graduated in Degrees
17 Mandrels available to Ensure Correct Gap-free Fits
Supplied with 2 Belts and Two Pipe Mandrels (1-1/4" & 1-1/2")
Tool-free Belt and Mandrel Change over
Belt Tensioning System Simplifies Tensioning the Grinding Belt
Grinding Belt can be Tensioned Quickly using the Hexagonal
Spanner Supplied with the Machine
Grinding Rollers can be Changed in Seconds
Warranty: Three Years on Parts
Manufactured in the Netherlands
---
DISCLAIMER: The information presented in the write ups and the photographic representations of the equipment are believed to be accurate at the time the pages are created. The information presented on the web site should not be used for formal quotation. Price and information presented in the write ups on the web site are subject to change without notice. Machinery Values claims no responsibility for inaccuracies of the information presented on the pages of this website. Please contact one of our sales representatives if you require more information or a current formal quotation.
We're here to help
Looking for a specific machine?
Address
401 Supor Blvd.
Harrison, NJ 07029
Phone
Voice: (973) 497-7500
Fax: (973) 497-7501
Email
sales@machineryvalues.com
Address 401 Supor Blvd.
Harrison, NJ 07029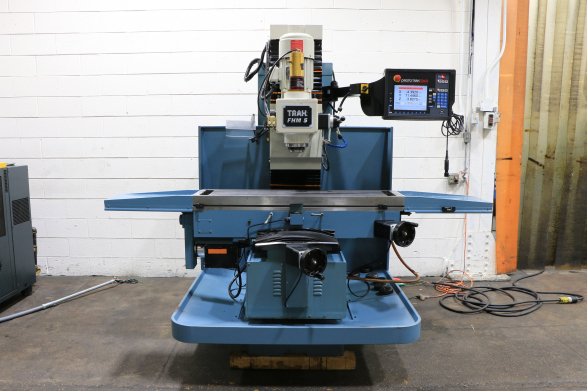 Subscribe to Receive our Most up to Date Machinery Listings
For our latest machines and inventory, sign up to receive our weekly email to be first to bid on a machine.