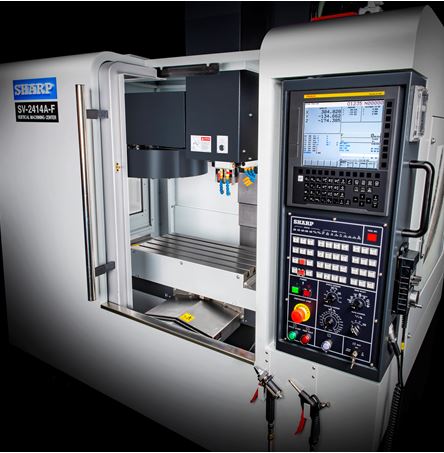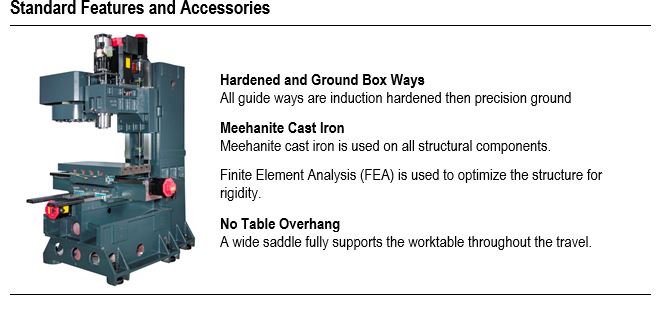 Sharp SV-2414 A-F Mini Mill VERTICAL MACHINING CENTERS. VMC's
Price on Request
Make:

Sharp
Model:

SV-2414 A-F Mini Mill
Year:

NEW
Ref #:

161870
Or call us for a quote at (973) 497-7500 or send us an email at cncmachines@machineryvalues.com
---
NEW Sharp Model: SV-2414 A-F Mini Mill
High Precision Box Way Vertical Machining Center
Standard Machine Specifications
Work Capacity
X axis travel: 610mm (24" )
Y axis travel: 355mm (14" )
Z axis travel: 460mm ( 18" )
Spindle nose to table: 70 - 530mm (2.8" – 20.9" )
Spindle center to column: 415mm ( 16.3" )
Worktable
Table area: 700 x 350mm ( 27.6" x 13.8" )
Max. work piece weight: 350kg ( 770 lbs.)
T-Slot (Number x Width x Pitch): 5x16x63.5(5x0.63x2.5)
Spindle
Spindle taper: Big Plus, CAT-40
Spindle speed: rpm 8,000
Spindle motor: cont. / 15 min: kw (hp) 7.5 /11 ( 10/15 )
Torque: Nm( ft/lb) 70(52) at 1500 rpm
Transmission: Belt Drive
Automatic Tool Changer
ATC type: Carousel
Tool capacity: 16
Max. Tool diameter: 93mm (3.7")
Without adjacent tool: 150mm (5.9")
Max. Tool length: 300mm (11.8")
Max. Tool weight: 7kg ( 15.4 lbs)
Tool change time (tool to tool): 6.8 sec
Tool change time (chip to chip): 8 sec
Method of tool selection: Set tool Number
Motion
Rapid traverse: (mm/min (ipm)) X / Y/Z:20,000(787.4 ipm)Z:18,000 (708.7 ipm)
Cutting feed rate: (mm/min (ipm)) 1-10,000 (0.04–393 in / min )
Transmission: Direct drive
Positioning accuracy*: (mm (inch)) +/- 0.007 ( 0.0003" )
Repeatability accuracy*:(mm (inch)) +/- 0.003 ( 0.0001" )
Ballscrew diameter, pitch: (mm (inch)) 32(1.26"),10(0.4")
X/Y/Z servo motor for Fanuc control: Kw( HP)1.2/1.2/1.8 (1.6/1.6/2.4)
Coolant System
Coolant tank capacity: L (gal) 160 ( 42 gal )
Number of Coolant Nozzles: 8
Machine Size
Floor space (w/o chip conveyor: W: 1850mm (72.8" ) x D: 1825mm (71.9")
Height**: 2400mm (94.5"))
Weight: 2500kg (5500 lbs.)
Door opening: 740mm (29.2")
Power Requirements
Electrical: 60 Hz 220 V / 3 Phase / 20 KVA
Air: 6 CFM @ 88 psi
* Proper foundation and environmental controls are required
** Overall height can be reduced to fit through most door opening by removing the "Z" axis motor.
Standard Accessories
Box Way Construction
CNC Control: Fanuc 0i-MF ( package 3)
Spindle:
CAT-40 taper
8,000 rpm
Rigid tapping
Air blow (for cutting dry)
Air curtain (protect bearings)
Automatic Tool Changer:
16 tools, carousel style
Air blast at tool change
Coolant System:
42 gallon roll out coolant tank
Flood coolant system
Auto-Lubrication System with Alarm
Coolant gun
Air gun
Pull-out style Chip Pan
Heat Exchanger for Electric Cabinet
Fluorescent Work Light
Air Reservoir Tank with Alarm
3 Tier Status Light
Full metal enclosure with 2 large side doors
Tool kit
Leveling bolts and pads
---
DISCLAIMER: The information presented in the write ups and the photographic representations of the equipment are believed to be accurate at the time the pages are created. The information presented on the web site should not be used for formal quotation. Price and information presented in the write ups on the web site are subject to change without notice. Machinery Values claims no responsibility for inaccuracies of the information presented on the pages of this website. Please contact one of our sales representatives if you require more information or a current formal quotation.
We're here to help
Looking for a specific machine?
Address
401 Supor Blvd.
Harrison, NJ 07029
Phone
Voice: (973) 497-7500
Fax: (973) 497-7501
Email
sales@machineryvalues.com
Address 401 Supor Blvd.
Harrison, NJ 07029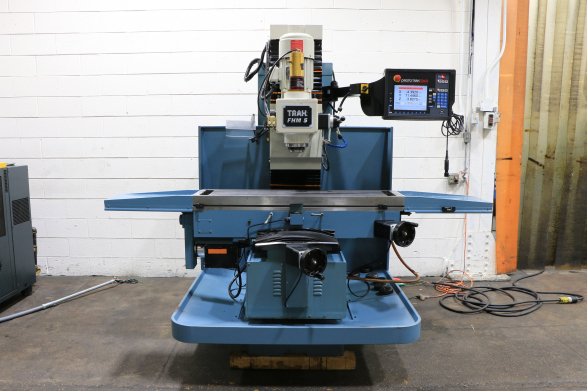 Subscribe to Receive our Most up to Date Machinery Listings
For our latest machines and inventory, sign up to receive our weekly email to be first to bid on a machine.