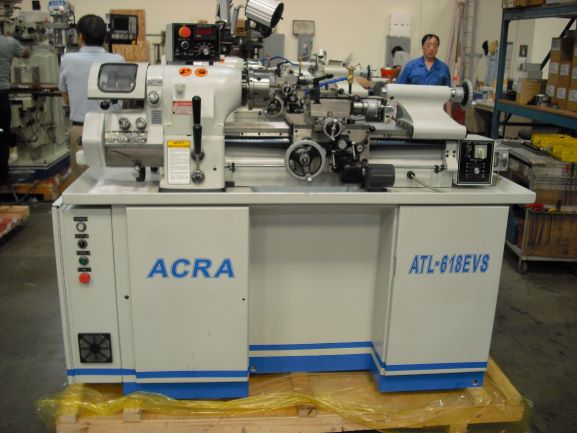 Acra ATL618EVS NEW PRECISION LATHES LIKE HARDINGE
Price on Request
Make:

Acra
Model:

ATL618EVS
Year:

NEW
Ref #:

160504
Or call us for a quote at (973) 497-7500 or send us an email at toolroom@machineryvalues.com
---
NEW ACRA ATL618EVS 5HP PRECISION HIGH SPEED/HIGH ACCURACY TOOLROOM LATHE WITH INVERTER
Ruggedly constructed to withstand continuous production.
280 mm (11") Swing over bed.
457 mm (18") distance between centers.
Dual range Inch/Metric quick change gearbox.
Infinitely variable spindle speeds from 0-4000 RPM.
Fast lever collet chucking with a single movement.
Automatic thread length control with fine adjustable stops provides for accurate thread relief.
Full bearing carriage with Turcite-B slideway bearing material between carriage and bed.
Solid hardened and ground alloy tool steel bed.
The spindle is mounted in high precision preloaded angular contact ball bearings eliminating and end play.
5 Horse Power Motor.
Specifications:
With Chuck: 6″
With Expanding Collets: 3″
With Round 5C Collets: 1-1/16″
With Hexagon 5C Collets: 7/8″
With Square 5C Collets: 3/4″
With Step Chucks: 1-1/16″ ~ 6″
Spindle Nose Diameter: 2 ~ 3/16″
Spindle Nose I.D./O.D.: 5C (10 Degree)/ 4 Degree Taper
Spindle Speeds (Variable): 0 – 4,000 RPM
Inverter Spindle Motor: 5 HP
Hole Through Spindle: 1-1/4″
Bar Stock Diameter (5C Collet): 1-1/16″
Distance Between Centers: 18″
Swing Over Bed: 11″
Swing Over Carriage: 9″
Swing Over Cross Slide: 6″
Carriage Power Feed Range: 3/16″ ~ 4″
Cross Slide Power Feed Range: 5/16″ ~ 7″
Cross Slide Travel: 6″
Quick-Action Compound Slide Travel: 0.1″
Compound Slide Travel: 3″
Tailstock Spindle Travel: 3-3/4″
Number of Change Threads: 36
Range of Threads: 11 ~ 108 TPI
Voltage: 230V AC/ 1 Phase/ 3 Phase
Weight: 2,530 lbs
Dimensions: 73" x 30" 67"
Standard Equipment:
• 5C Lever Collet Closer
• Coolant System
• Quick-Acting Tool Post
• Special Tools
• Halogen Light
• Electronic Vari-Speed System
• Inch/Metric Threading
• Power Feed Unit
Optional Accessories:
Indication carriage stop
Follow Rest
Fixture Plate
Taper turning attachment
6" 4 jaw scroll chuck with back plate
6" 3 jaw adjust TRU chuck with back plate
Tool setting gage
5C Collet Fixture Plate (3 3/8" dia.)
5C Collet Fixtrue Plate (4 3/8" dia.)
Chip and coolant shield
Vertical Cut-Off Slide
Steady rest
Rear tool holder slide assembly
Lead screw follower
Aloris Tool Post ser (AXA) 5 pc
460V transformer
Digital Readouts: Newall, Heidenhain, Mitutoyo
---
DISCLAIMER: The information presented in the write ups and the photographic representations of the equipment are believed to be accurate at the time the pages are created. The information presented on the web site should not be used for formal quotation. Price and information presented in the write ups on the web site are subject to change without notice. Machinery Values claims no responsibility for inaccuracies of the information presented on the pages of this website. Please contact one of our sales representatives if you require more information or a current formal quotation.
We're here to help
Looking for a specific machine?
Address
401 Supor Blvd.
Harrison, NJ 07029
Phone
Voice: (973) 497-7500
Fax: (973) 497-7501
Email
sales@machineryvalues.com
Address 401 Supor Blvd.
Harrison, NJ 07029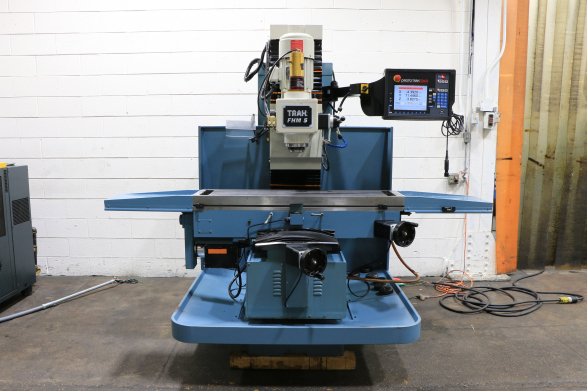 Subscribe to Receive our Most up to Date Machinery Listings
For our latest machines and inventory, sign up to receive our weekly email to be first to bid on a machine.