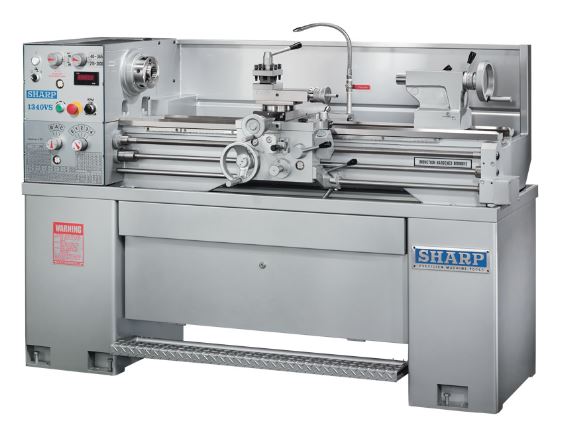 Sharp 1340VS NEW LATHES
Price on Request
Make:

Sharp
Model:

1340VS
Year:

NEW
Ref #:

136735
Or call us for a quote at (973) 497-7500 or send us an email at toolroom@machineryvalues.com
---
NEW SHARP 1340VS PRECISION LATHE
STANDARD EQUIPMENT:
3-Jaw 8" Chuck
Removable Gap
Steady Rest (Capacity, ¼" – 2.5")
Coolant System
Splash Guard
4-Way Tool Post ( made in Taiwan)
6" Diameter Back Plate
Threading Dial
Foot Brake
Center Sleeve (MT #5 x #3)
Dead Centers (MT #3)
Wired 220V (**440V – Optional additional transformer charge required)
Tool Kit includes:
Machine Manual, Half Nut Wrench, Wrench 17m, 19m, Set of 6 Allen wrenches, Phillip Screw Driver, Flat Head Screw Driver, Oil can, Grease Gun, Rear Way Cover Bracket, P2 sets of dead center, in for Indicator, Can of Paint
FEATURES:
13"x 40" Capacity
7-5/8" Over Cross Slide
40-2000 RPM
"VS" Model can run single phase electrics
D1-4 Camlock Spindle 1-1/2" Bore
Gap Bed
3 HP Motor (2-Speed Motor)
Hardened and Ground Bed Ways (Rockwell 50)
Larger Compound, Tailstock, and Apron Allow Heavier Cutting with Less Vibration than Competitive Models
Vari-Speed, All Geared Headstock Housed inside a Sturdy Cast Iron Base.
Jog Button for Easy Gear Engagement and Inching Spindle
Quick Change Gearbox Offers a Wide Range of Threads
SPECIFICATIONS:
Swing Over Bed: 13"

Swing Over Cross Slide: 8-5/16"

Swing Over Gap: 18-1/2"

Width Of Bed: 7-1/2"

Width of Gap: 9.25"

Distance Between Centers: 40"
Spindle Nose Type: D1-4 camlock

Spindle Bore: 1-9/16"

Spindle Speeds: 40-2,000 RPM

Taper of Spindle Bore: MT#5
Longitudinal Feeds – in/rev (40): 0.0016 - 0.046

Cross Feeds – in / rev (40): 0.0005 –0.015"

Inch Threads (40): 2-56 tpi

Metric Threads (22): 0. 5 –12mm

Leadscrew Pitch, Diameter: 8 tpi, 7/8"
Apron Width: 11"

Cross Slide Width: 4.5"

Cross Slide Travel: 6-3/4"

Compound Rest Travel: 3-1/2"
Bed Length: 64"

Bed Width: 7-1/2"
Quill Travel (graduated): 4"

Quill Diameter: 1-9/16"

Quill Taper: MT#3
Spindle Motor: 3 hp

Net Weight (approx.): 1,540 LBS

Standard Color: Gray

Dimensions:( LxWxH) 71"x20"x44"
Specifications may be changed or improved without notice.
Voltage: 220

Phase: 3 phase

(440 volts optional) transformer required for additional cost
220V 3KVA/10 amps
440V 3KVA/5 amps
Optional Accessories:
380V, 440V, 575V Transormer - 3HP
4 Jaw Chuck 8" (QU)
4 Jaw chuck 10" (QU)
3 Jaw chuck 8" (Bison)
4 Jaw chuck 8" (Bison)
Follow Rest (capacity 0.4" - 2.17")
Roller Rest for steady rest, 3 pcs
Taper Attachment (factory Installed)
Quick Change Tool Holder set (Aloris) 7 pcs/holder
Live Cetner MT#3
Live Center with 7 Interchangeable points
Drill Chuck & Arbor (Jacobs)
Face Plate (12:) D1-4
Micrometer Carriage stop
Halogen Work light
5C Collet set, 1/8" to 1" by 1/16" (16 pcs)
5C Collet Closer set (Atlas)
Digital Read out Systems:
Fagor 20i D.R.O.
Fagor 40i D.R.O.
Acu-Rite 200S D.R.O.
Newall DP700 D.R.O.
---
DISCLAIMER: The information presented in the write ups and the photographic representations of the equipment are believed to be accurate at the time the pages are created. The information presented on the web site should not be used for formal quotation. Price and information presented in the write ups on the web site are subject to change without notice. Machinery Values claims no responsibility for inaccuracies of the information presented on the pages of this website. Please contact one of our sales representatives if you require more information or a current formal quotation.
We're here to help
Looking for a specific machine?
Address
401 Supor Blvd.
Harrison, NJ 07029
Phone
Voice: (973) 497-7500
Fax: (973) 497-7501
Email
sales@machineryvalues.com
Address 401 Supor Blvd.
Harrison, NJ 07029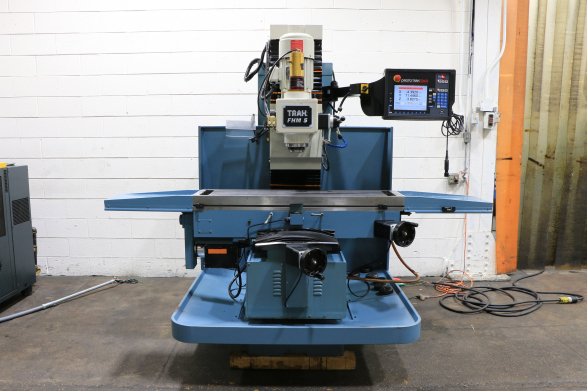 Subscribe to Receive our Most up to Date Machinery Listings
For our latest machines and inventory, sign up to receive our weekly email to be first to bid on a machine.