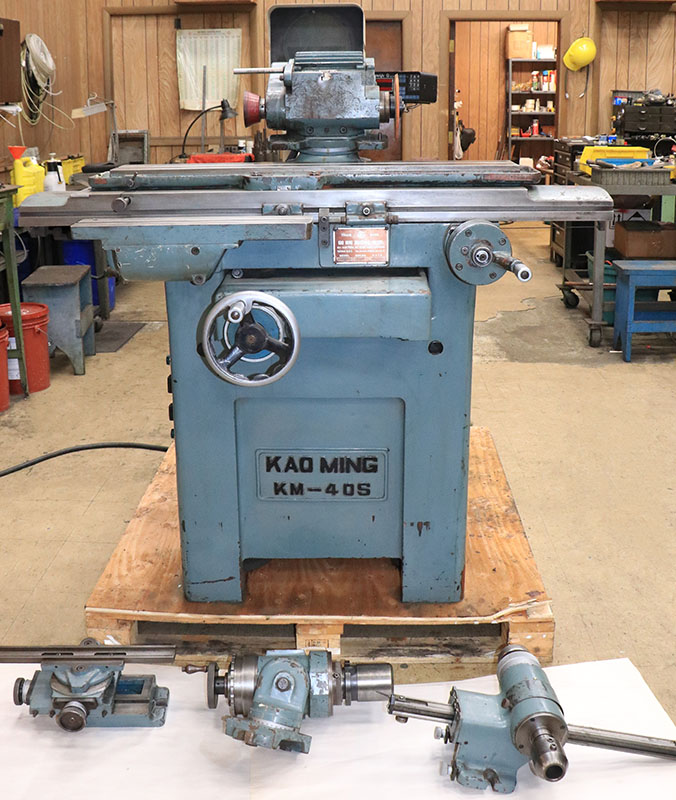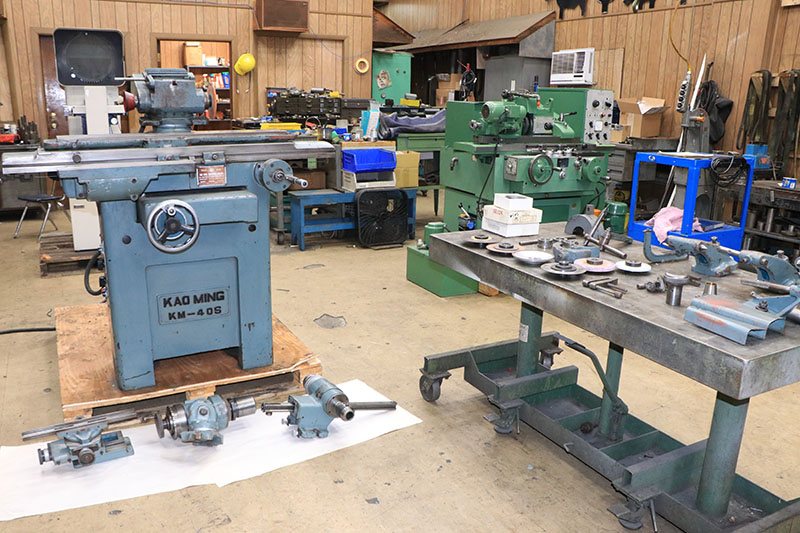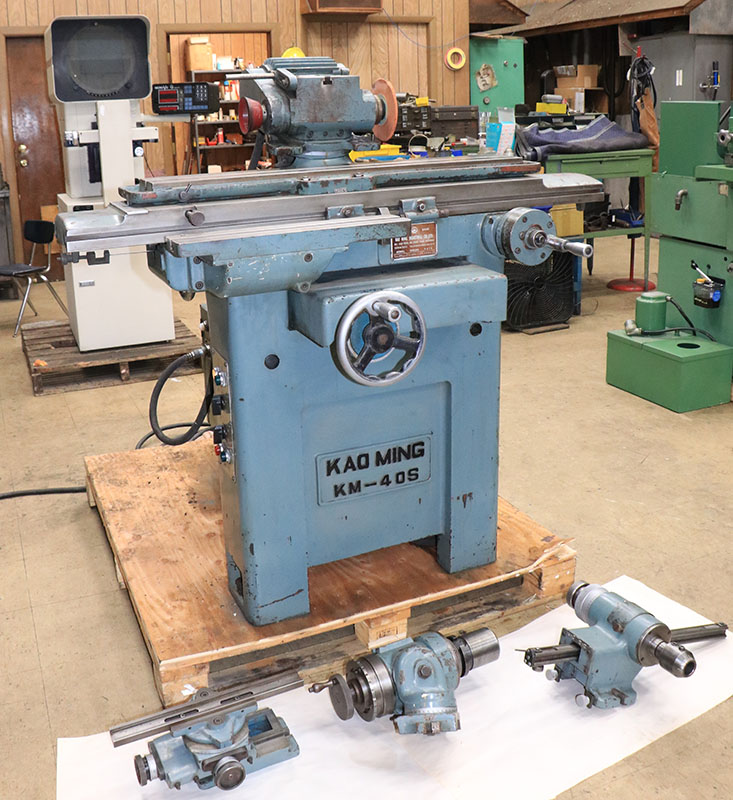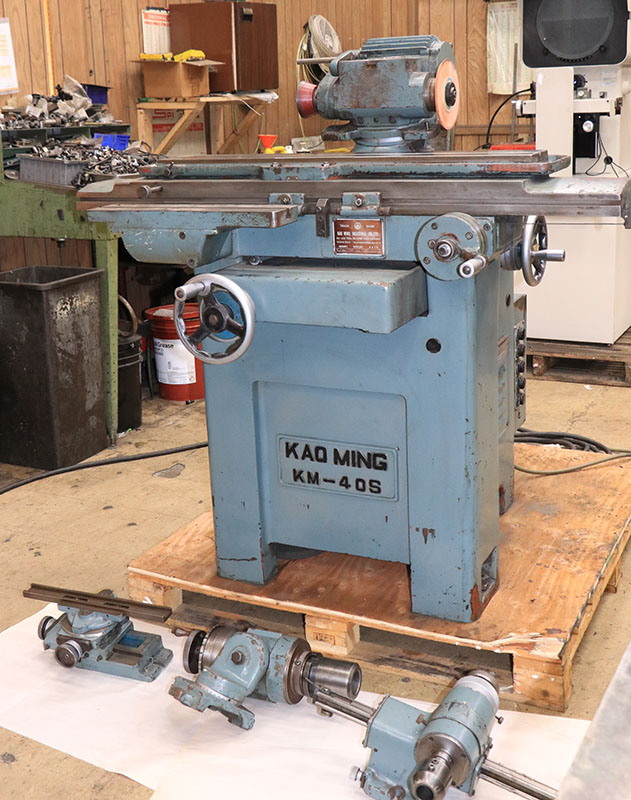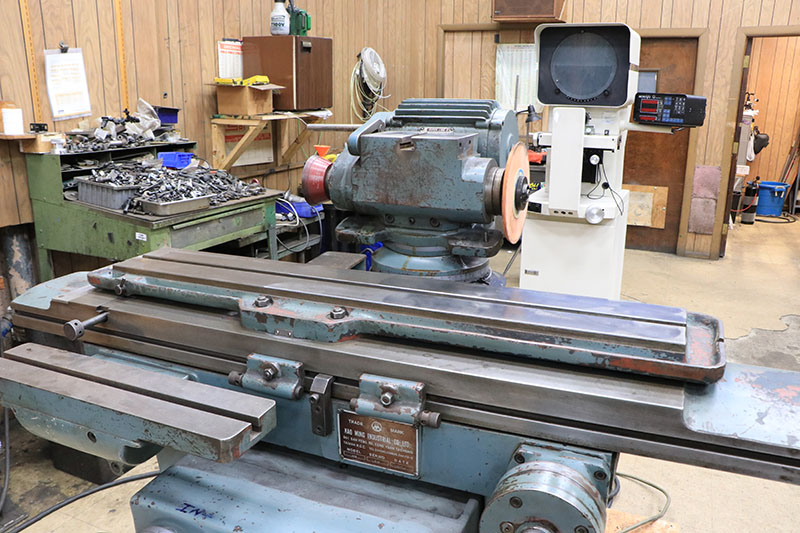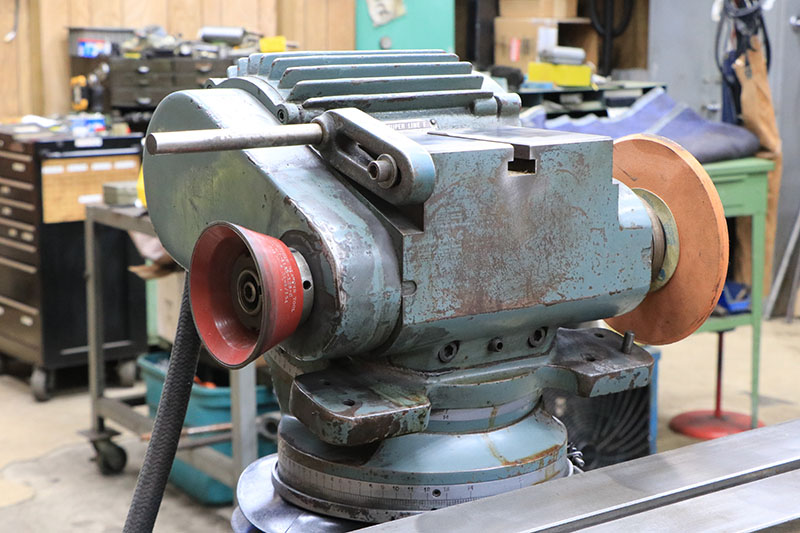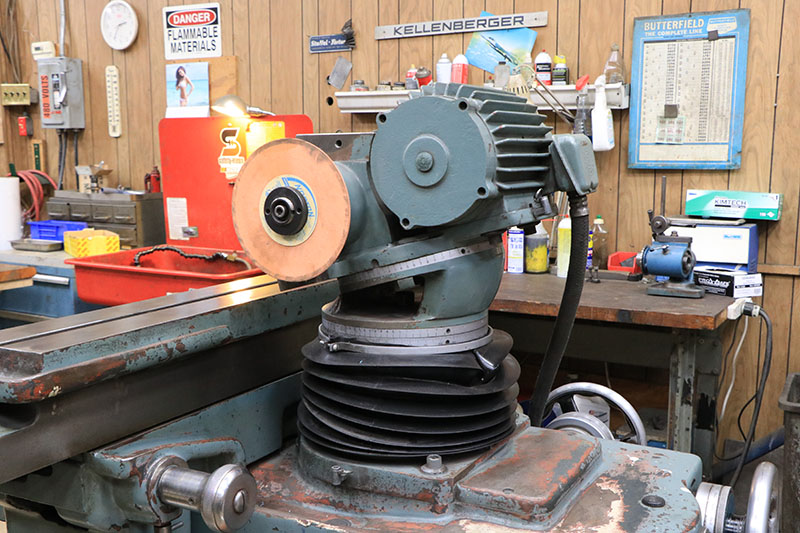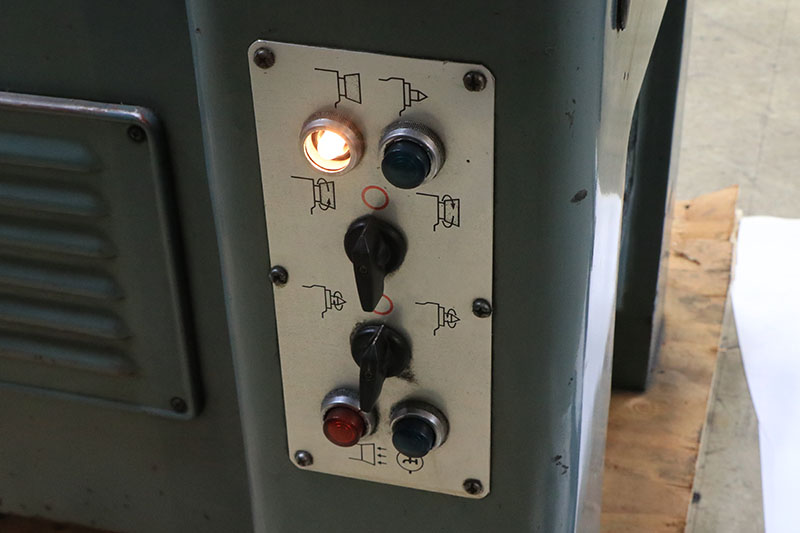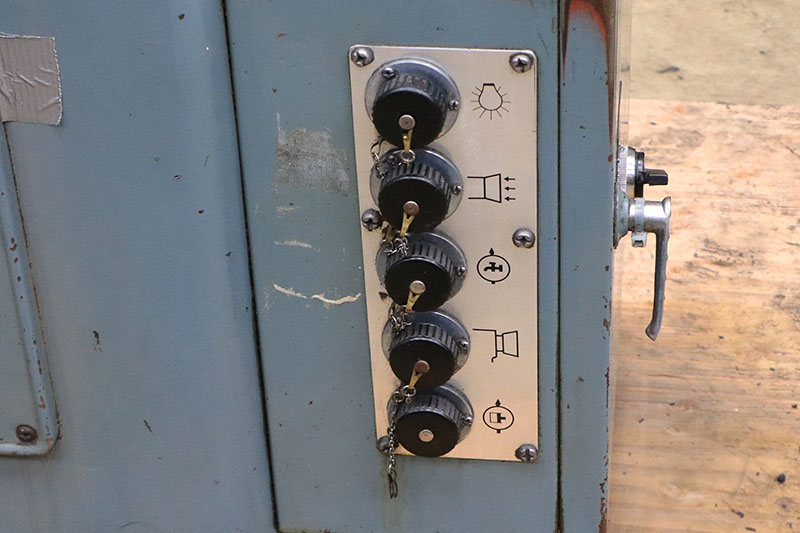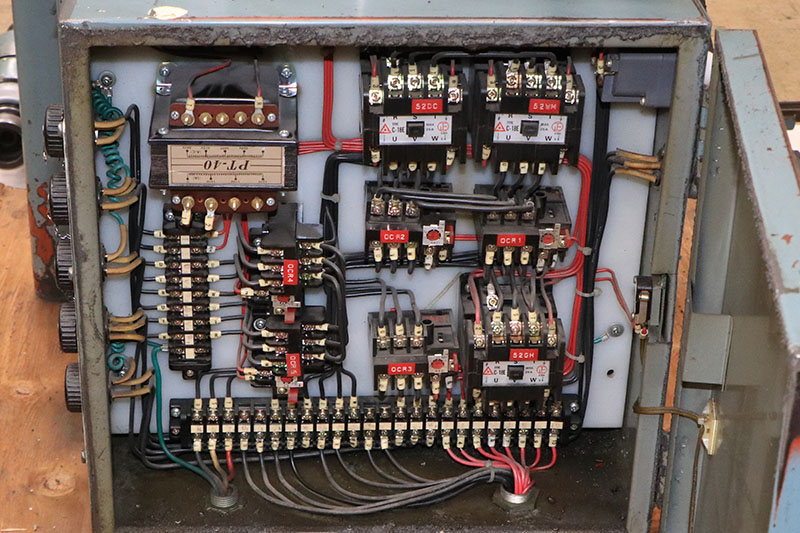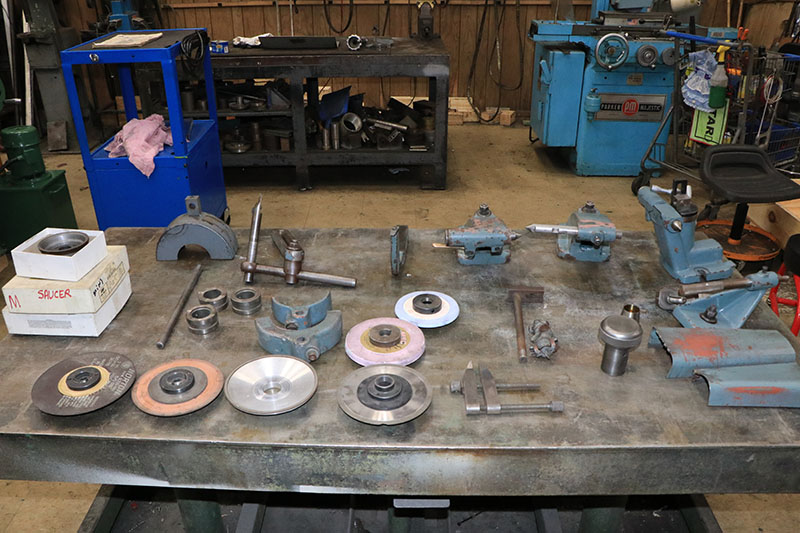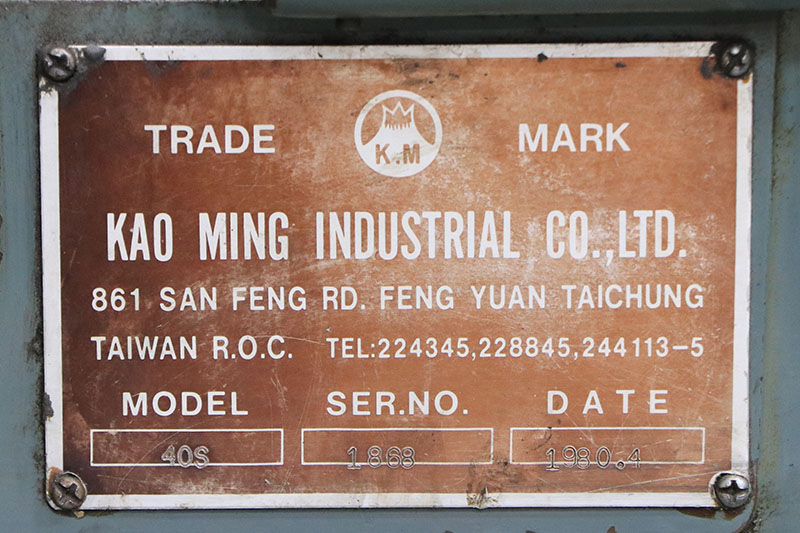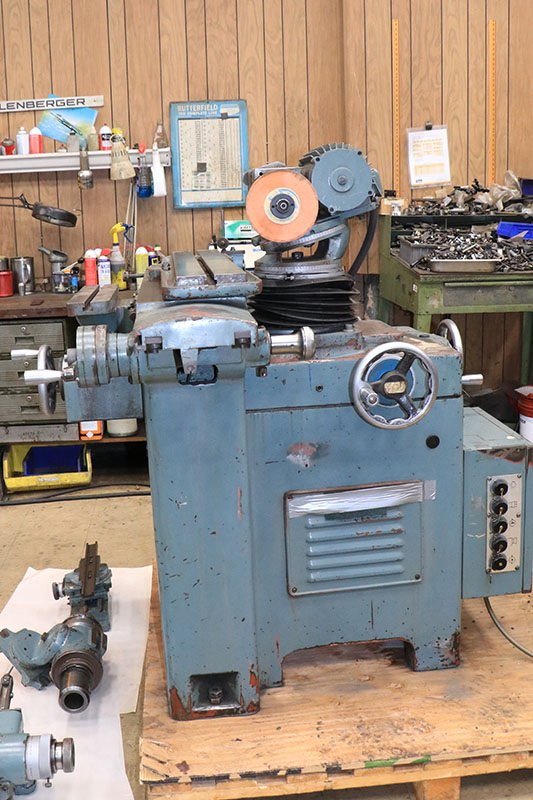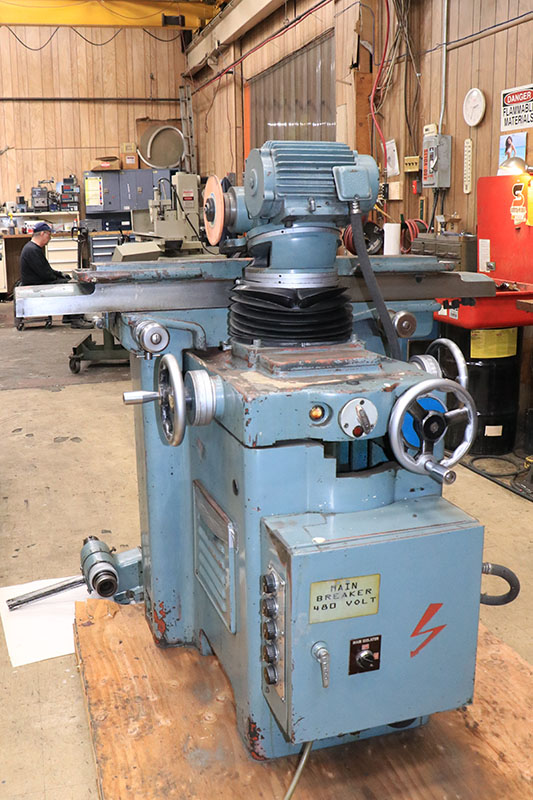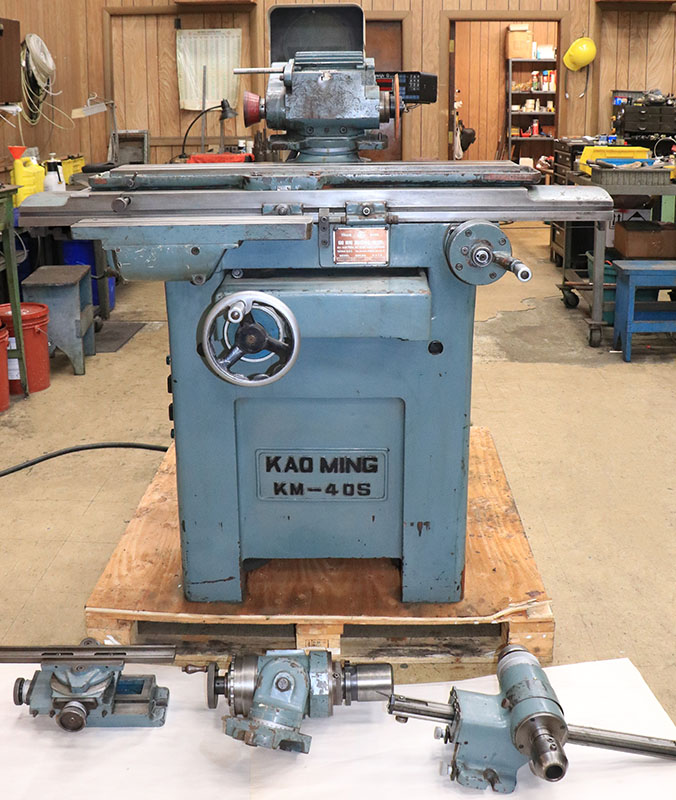 ---
Watch Video:
Kao Ming 40S, UNIVERSAL TCG, TILT WHEELHEAD TOOL & CUTTER GRINDERS
Price on Request
Make:

Kao Ming
Model:

40S, UNIVERSAL TCG, TILT WHEELHEAD
Year:

1980
Ref #:

163561
Or call us for a quote at (973) 497-7500 or send us an email at grinders@machineryvalues.com
---
KAO MING UNIVERSAL TOOL & CUTTER GRINDER WITH
TILTING WHEELHEAD, FRONT & REAR HANDWEHEELS,
A ROLLER BEARING TABLE, FULL CAST IRON
CONSTRUCTION, AND COMES WITH MANY ACCESSORIES,
VERY SIMILAR/COPY OF A MAKINO #C-40),
THIS MACHINE IS MADE IN MADE IN TAIWAN,
SOLD UNDER SEVERAL BRANDS, ACRA, VICTOR, GROMAX, RAMCO,
AND OTHERS. PARTS & OTHER ACCESSORIES ARE READILY
AVAILABLE FROM ONE OR ALL OF THESE BRANDS.
MODEL: KM-40S S/N: 1858 NEW: 1980
CAPACITY:
SWING OVER TABLE DIAMETER ....................... 10"
LENGTH, BETWEEN RIGHT & LEFT-HAND TAILSTOCKS .... 27"
LENGTH, BETWEEN TAILSTOCK & WORKHEAD ............ 14"
RANGE:
TABLE SIZE ........................... 5- 5/16" X 37- 1/2"
LONGITUDINAL TABLE TRAVEL ....................... 16"
CROSS MOVEMENT OF TABLE ......................... 10"
TABLE SWIVEL ............................... 180 DEG.
TABLE TAPER ............................ +/- 10 DEGREES
TABLE GRADUATIONS IN CENTER, IN DEGREES ..... 60 DEG.
VERTICAL MOVEMENT OF GRINDING WHEEL SPINDLE ..... 10"
MAX. DIST. CENTERLINE OF SPINDLE TO TABLE ....... 12"
SPINDLE TILTS ABOVE AND BELOW CENTER ........ 15 DEG.
SWIVEL MOVEMENT OF GRINDING WHEEL SPINDLE .. 360 DEG.
SPINDLE SPEEDS (3) ................. 2,600, 3,700 & 6,200 RPM
APPROXIMATE MACHINE WEIGHT .................. 1,980 LBS.
REQUIRED FLOOR SPACE ................ 61"L-R x 68.5"D x 60"H
MACHINE FEATURES:
TILTING WHEELHEAD (15 DEG. ABOVE & BELOW)
DUPLICATE CONTROLS @ THE FRONT & REAR OF THE TABLE
BALL BEARING ANTI-FRICTION TABLE ROLLING IN
REPLACEABLE HARDENED STEEL V-WAYS
360 DEG. ECCENTRIC WHEELHEAD & SWIVEL TABLE WHICH
CAN INCREASE SPECIFIED CROSS RANGE BY 70%
CAST IRON CONSTRUCTION
ONE-SHOT LUBRICATION SYSTEM
2-SPEED SPINDLE, INSTANTLY REVERSIBLE
1 HP 3/60/230-460 VOLT SPINDLE MOTOR
ACCESSORIES WITH THIS MACHINE INCLUDE:
WORKHEAD, SWIVELS IN TWO PLANES
NO. 50 TAPER & No. 5 MT TAPERS
HELICAL GRINDING ATTACHMENT
SET OF MATCHING TAILSTOCKS
LARGE SINGLE INDEPENDENT TAILSTOCK
TABLE MOUNTED WHEEL DRESSER
CAMS FOR HELICAL GRINDING ATTACHMENT
WHEEL GUARDS
WHEEL ARBORS, HUBS & WHEELS
OTHER ACCESSORIES AS SHOWN IN PHOTOS
ITEMS THAT BE GROUND ON THIS MACHINE:
END MILLS
SHELL END MILLS
FACE MILL
KEYWAY OR SLOTTING CUTTER
SIDE MILL CUTTER
STAGGERED TOOTH CUTTER
ANGULAR CUTTER
LONG END MILL
METAL SLITTING SAW
LARGE METAL SAW, UP TO 48" DIAMETER
HELICAL TOOTH CUTTER
TAP
REAMER, CHAMFER
** INSPECT UNDER POWER IN OUR HARRISON, N.J. WAREHOUSE **
** EXCELLENT CONDITION & APPEARANCE **
---
DISCLAIMER: The information presented in the write ups and the photographic representations of the equipment are believed to be accurate at the time the pages are created. The information presented on the web site should not be used for formal quotation. Price and information presented in the write ups on the web site are subject to change without notice. Machinery Values claims no responsibility for inaccuracies of the information presented on the pages of this website. Please contact one of our sales representatives if you require more information or a current formal quotation.
We're here to help
Looking for a specific machine?
Address
401 Supor Blvd.
Harrison, NJ 07029
Phone
Voice: (973) 497-7500
Fax: (973) 497-7501
Email
sales@machineryvalues.com
Address 401 Supor Blvd.
Harrison, NJ 07029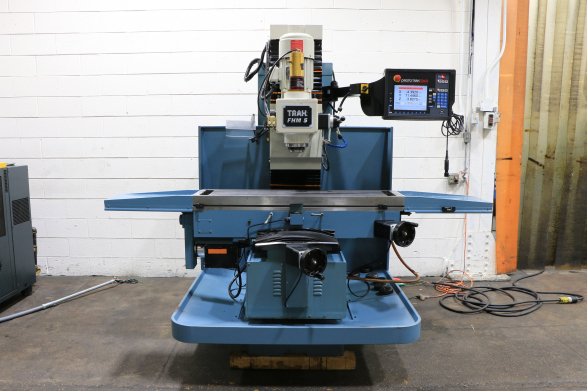 Subscribe to Receive our Most up to Date Machinery Listings
For our latest machines and inventory, sign up to receive our weekly email to be first to bid on a machine.