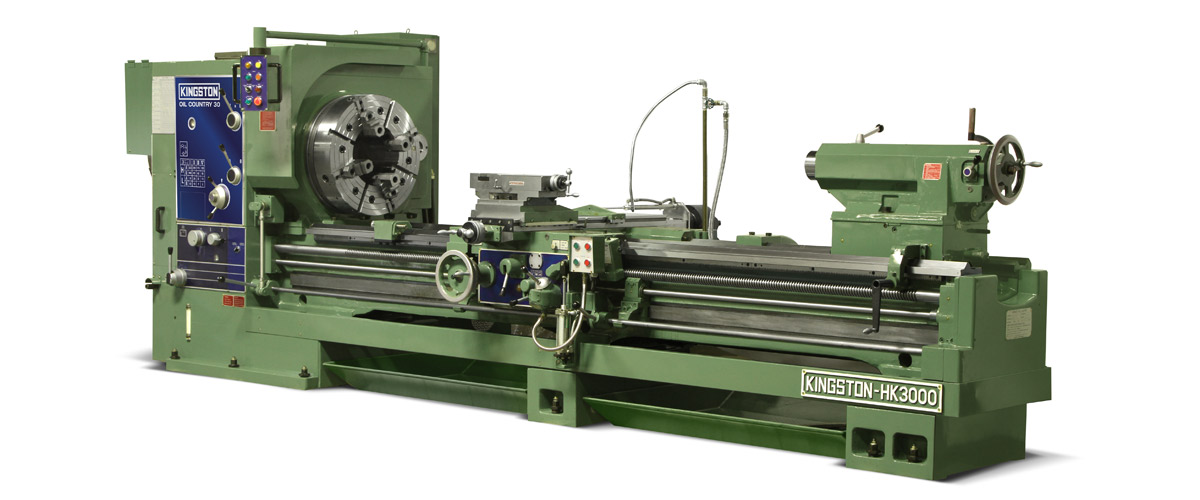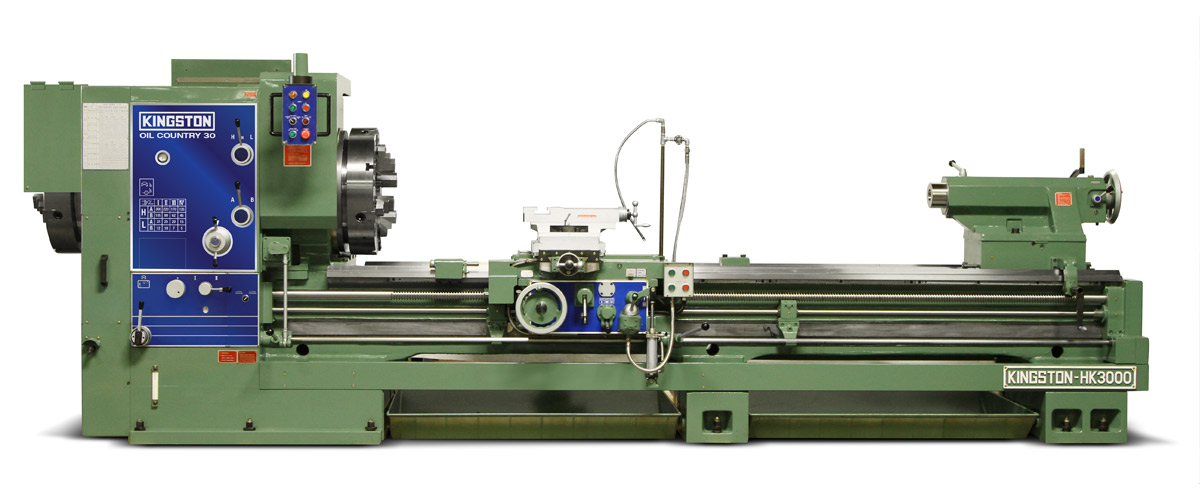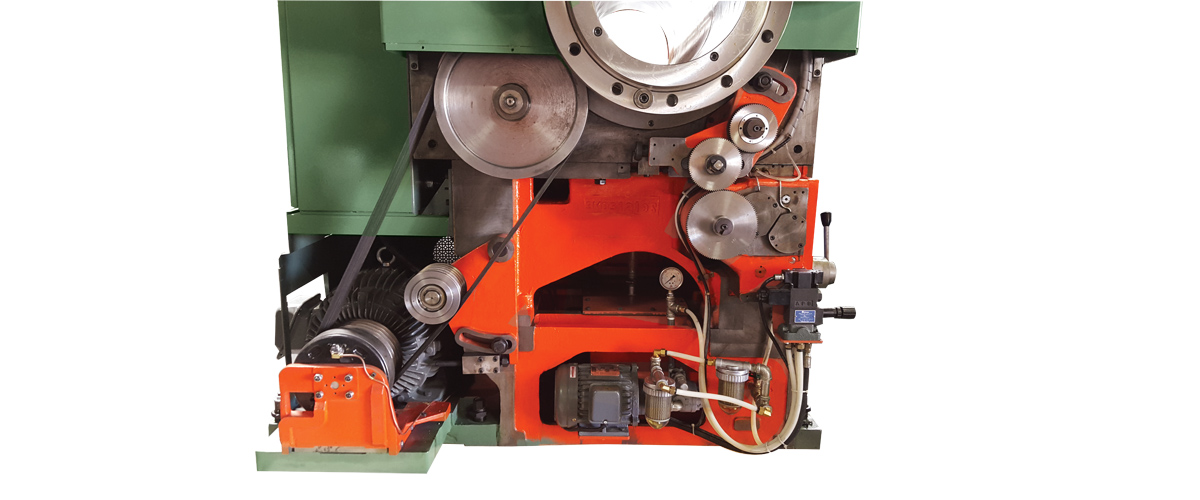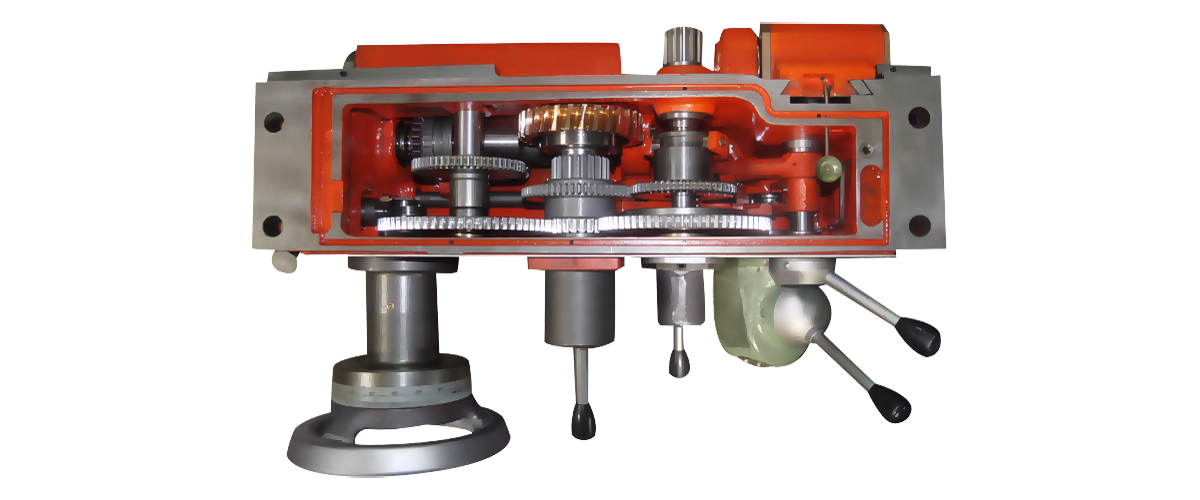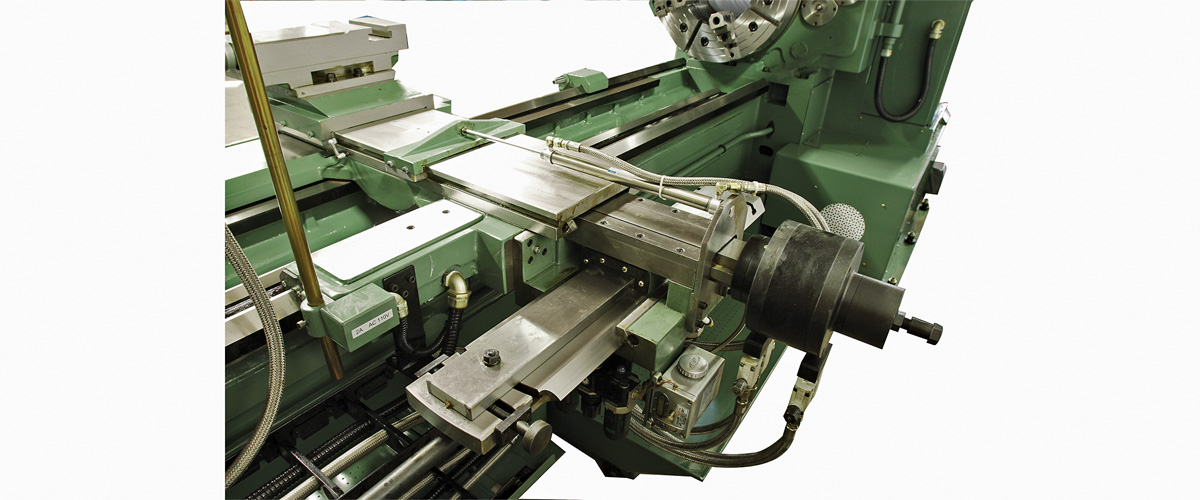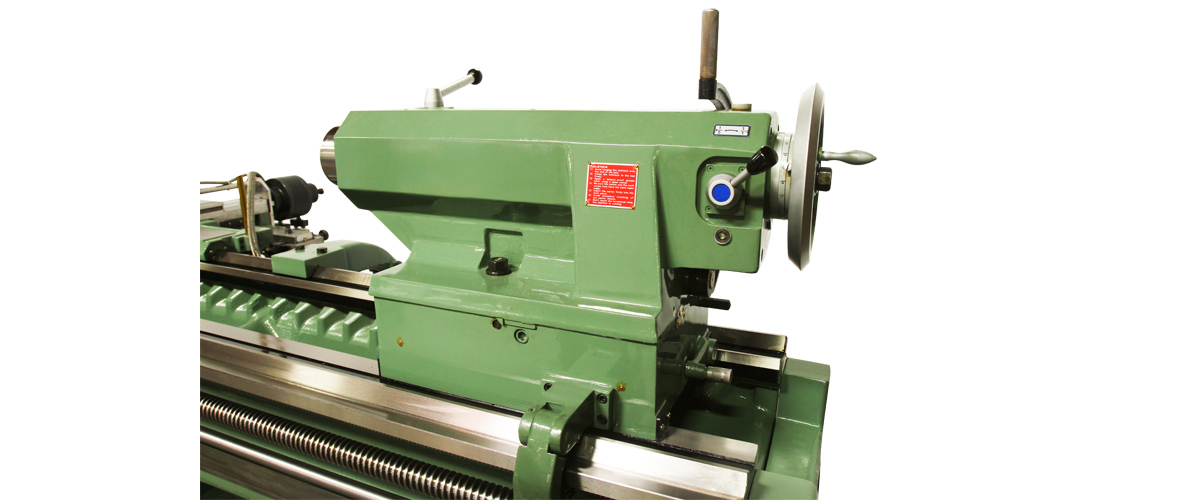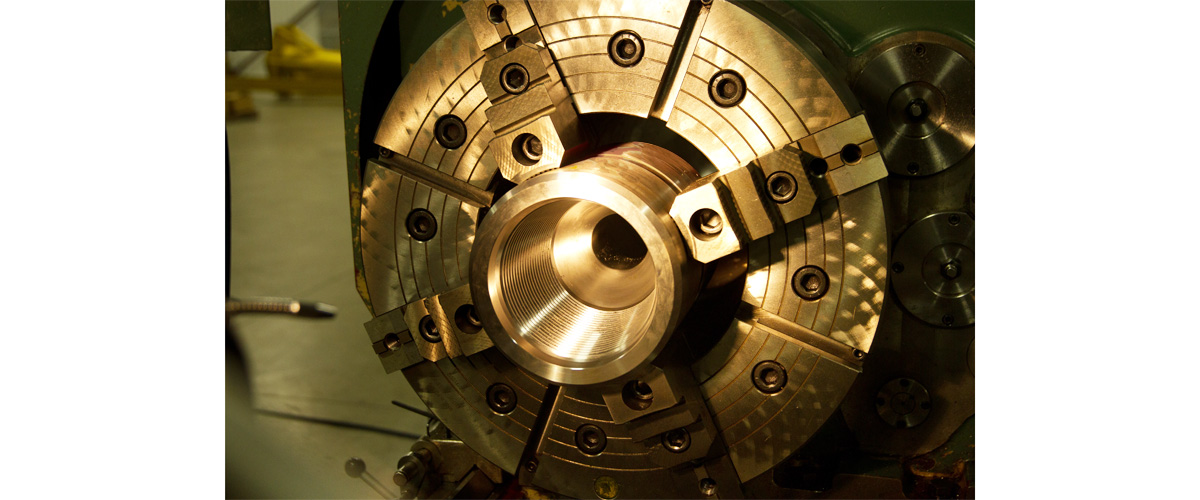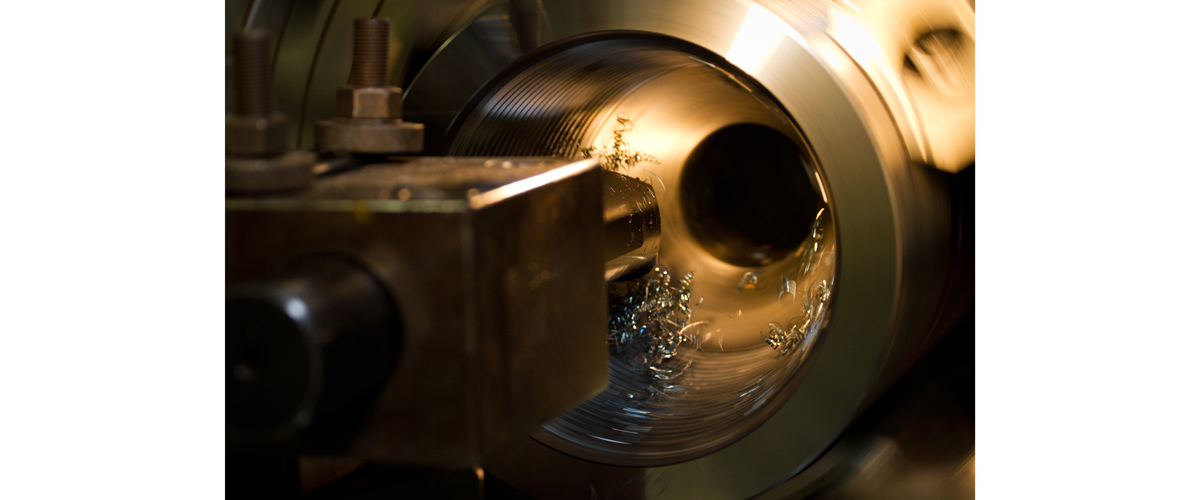 Kingston HK SERIES 30 - 34" Swing NEW LATHES
Price on Request
Make:

Kingston
Model:

HK SERIES 30 - 34" Swing
Year:

NEW
Ref #:

161057
Or call us for a quote at (973) 497-7500 or send us an email at toolroom@machineryvalues.com
---
NEW KINGSTON HK SERIES OIL COUNTRY LATEHS
Kingston's classic hollow spindle lathe–the original 12.5" bore HK
model – has been making chips for over 35 years under the most
demanding of work conditions. The HK consistently leads the industry
in heavy-duty oil country applications, with the shorter 30" swing
version being the most popular for its lower center of gravity and
maximum stability during heavy cutting. These models are equipped
with a powerful 20 HP Mitsubishi inverter-driven main motor (6P) and
a hydraulic braking system, with a semi-automatic air threading
attachment (complete with taper) as a popular option. The HK comes
double-chuck ready with an A2-20 spindle nose, and is available in
30" and 34" swings – with lengths from 120" to 280" between centers.
STANDARD EQUIPMENT & ACCESSORIES
20 HP, 230V (only), 3 Phase, 60 Cycle Motor
& Electrics Including Motor Drive Arrangement
with Mitsubishi Inverter & Hydraulic Brake
• 12.5" Spindle Bore
• Spindle Nose: ASA-A2-20
• Sliding Chuck Guard
• Rear Chuck Adapter Installed
• Set of Change Gears for Special Leads
• Hardened and Ground Bedways
• Tool Slide with T-Slot
• Thread Chasing Dial
• 4-Way Rapid Traverse
• Hydraulic Brake System
• Self-Spacing Supports For Lead Screw,
Feed Rod & Control Rod
• Coolant System with Pump and Piping
• Tailstock Safety Locking Chock
• 2-Speed Drive Tailstock Quill
• Pull Drawer Chip (Coolant) Pan
• UL Electrical Components & Cables
• Tool Box with Necessary Wrenches & Spanners
• Instruction Manual and Parts List
GENERAL MACHINE SPECIFICATIONS: HK-30 / HK-34
Capacity Swing Over Bed: 30" / 34"
Swing Over Cross Slide: 20.5" / 25.1"
Distance Between Centers: 118" / 159" / 198" / 238" / 278"
Width of Bed: 22"
Height of Center from Leg Bottom: 46.5" / 48.6"
Headstock Spindle Bore: 12.5"
Taper of Spindle Bore & Center: 3/4" Taper per Foot
Type of Spindle Nose: ASA A2-20
Number of Spindle Speed: 16
Spindle Speed: 5 – 300 RPM
Gear Box Number of Feed Changes: 40 Kinds
Range of Feeds per Revolution: 0.0024" – 0.0337"
Longitudinal Cross: 1/2 of Longitudinal Feeds
Leadscrew Diam. & Threads per Inch: 1.9" / 2 TPI
Threading range
Whitworth: 1 to 28 TPI (50)
Metric: 1 to 28mm pitch (41)
Module: 0.5 to 7 M (20)
D.P.: 4 to 56 D.P. (40)
Tool Slide Maximum Travel of Compound: 9.4"
Maximum Travel of Cross Slide: 21.2"
Tailstock Tailstock Quill Travel: 11.8"
Tailstock Quill Diameter: 5.1"
Tailstock Center: M.T. #6
Motor Main Drive Motor: 20 HP (15kw), 6P
Coolant Pump Motor: 1/4 HP
Optional Accessories:
Semi-Automatic Air Threading Attachment w/Special Taper
19.7" Steady Rest with Roller Jaws
23.5" Steady Rest with Roller Jaws (34" & 40" Swing Only)
Roller Bracket
7.9" Follow Rest
Telescopic Taper Attachment ±8° & 3.5"/foot, 19.7" Stroke
Drilling Attachment
Carriage Stops
Splash Guard (Factory Installation Only)
Chip Conveyor (Factroy Installation Only)
Digital Readout (DRO)
Aloris Quick Change Tool Post & Sets
---
DISCLAIMER: The information presented in the write ups and the photographic representations of the equipment are believed to be accurate at the time the pages are created. The information presented on the web site should not be used for formal quotation. Price and information presented in the write ups on the web site are subject to change without notice. Machinery Values claims no responsibility for inaccuracies of the information presented on the pages of this website. Please contact one of our sales representatives if you require more information or a current formal quotation.
We're here to help
Looking for a specific machine?
Address
401 Supor Blvd.
Harrison, NJ 07029
Phone
Voice: (973) 497-7500
Fax: (973) 497-7501
Email
sales@machineryvalues.com
Address 401 Supor Blvd.
Harrison, NJ 07029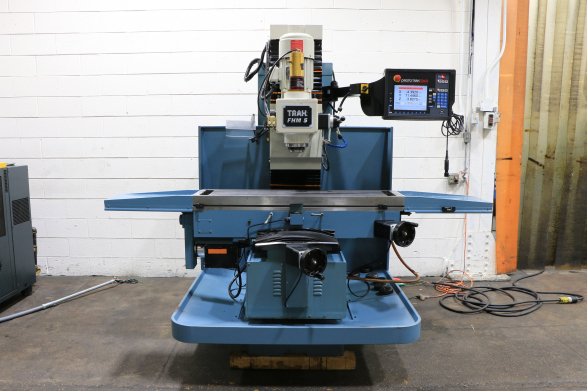 Subscribe to Receive our Most up to Date Machinery Listings
For our latest machines and inventory, sign up to receive our weekly email to be first to bid on a machine.