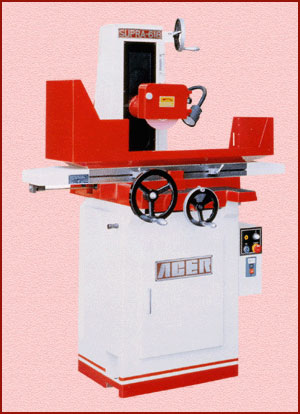 Acer Supra-618-II NEW SURFACE GRINDERS
Price on Request
Make:

Acer
Model:

Supra-618-II
Year:

NEW
Ref #:

122986
Or call us for a quote at (973) 497-7500 or send us an email at grinders@machineryvalues.com
---
"NEW" ACER HIGH PRECISION SURFACE GRINDER
MODEL: Supra-618-II
FEATURES:
HIGH PRECISION CARTRIDGE SPINDLE: High precision cartridge
type spindle is supported by 4 high precision preloaded
angular contact ball bearings and is driven by V3 class
motor that allows high accurate grinding performance.
HIGH ANTI-WEAR GUIDE WAYS: The saddle rests on precision
hand-scraped double V Turcite-B ways; the table rests on
precision ball roller ways. These guide ways are equipped
with an auto lubrication system to resist premature wear
and they are hand scraped or hardened & ground to 1/10,000"
per 12".
HIGH RIGID CASTING CONSTRUCTION: Machines are casted with
high grade casting iron with heavy walls and reinforced
ribs to provide excellent rigidity and damping.
ENLARGED COLUMN AND BASE: An enlarged column and base
creates high stability and rigidity. The height of the
column is increased up to 19.3" from table surface to the
center line of spindle.
TABLE DRIVE: For handfeed models, the table drive makes use
of cable which encloses high tensile steel cores that
ensures more smooth table movement and longevity. The table
handwheel can be indexed to 9 different positions without
backlash for more convenient operation.
SPECIFICATIONS:
Longitudinal Travel: 20"
Cross Feed Travel: 7-1/2"
Spindle Center to Table: 19-5/16"
Table Size: 6" x 18"
Wheel Speed: 3,450 RPM
Grinding Wheel: 8" x 1/2" x 1-1/4"
Vertical Graduation: 0.0001" (Direct Dial)
Spindle Motor: 3 hp (V3)
T-Slot: 1" x 3/8"
Net Weight: 1,584 lbs.
Front mount spindle with run-out within 0.00008".
Table overall flatness within 0.00012".
Continuous loop-cog timing belt system.
Crossfeed lock.
Adjustable longitudinal table stops.
Meehanite casted saddle with Double-V Turcite ways.
Safety 24 volt circuit control.
Push button manual starter with overload protection.
Distance between Double-V is 19.6" apart.
The width of machine base is 22".
Maximum work load at 320 lbs.
STANDARD ACCESSORIES:
1 pc. Wheel Balancing Base 1 pc. Wheel Balancing Arbor
1 pc. Grinding Wheel 1 pc. Wheel Flange
1 pc. Diamond Dresser 1 pc. Halogen Light
1 set Toolbox w/Tools 1 set Splash Guards
OPTIONAL ACCESSORIES(CALL FOR PRICES):
Acer 6" x 18" Permanent Magnetic Chuck
Walker 6" x 18" Permanent Magnetic Chuck (Fine Pole)
Walker 6" x 18" Electro Fine Pole chuck w/ Control
Parallel Dresser (overhead)
Coolant System
Dust Suction & Coolant System
Coolant System w/Paper Filter
Coolant System Magnetic Separator & Paper Filter
Extra Wheel Flange
"Newall" 2-Axis D.R.O. (8" x 18" Travel, 0.0001" Resolution)
"Sony" 2-Axis D.R.O. (8" x 18" Travel, 0.00002" Resolution)
---
DISCLAIMER: The information presented in the write ups and the photographic representations of the equipment are believed to be accurate at the time the pages are created. The information presented on the web site should not be used for formal quotation. Price and information presented in the write ups on the web site are subject to change without notice. Machinery Values claims no responsibility for inaccuracies of the information presented on the pages of this website. Please contact one of our sales representatives if you require more information or a current formal quotation.
We're here to help
Looking for a specific machine?
Address
401 Supor Blvd.
Harrison, NJ 07029
Phone
Voice: (973) 497-7500
Fax: (973) 497-7501
Email
sales@machineryvalues.com
Address 401 Supor Blvd.
Harrison, NJ 07029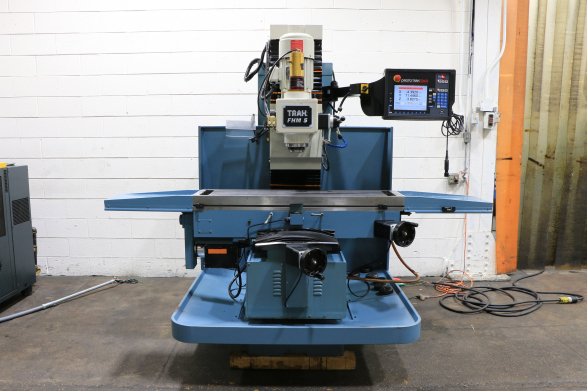 Subscribe to Receive our Most up to Date Machinery Listings
For our latest machines and inventory, sign up to receive our weekly email to be first to bid on a machine.