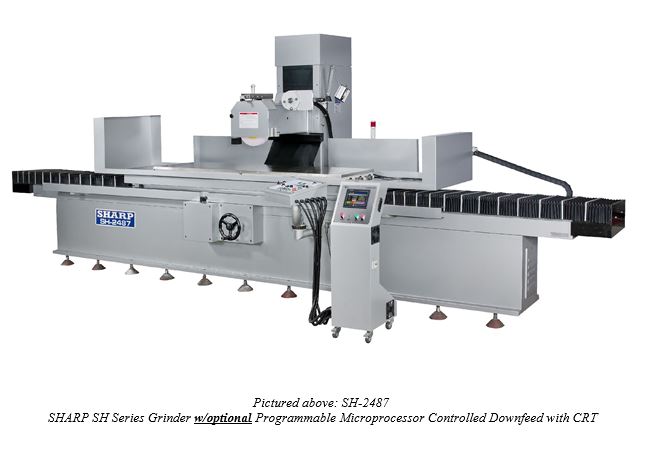 Sharp SH-2487 NEW SURFACE GRINDERS
Price on Request
Make:

Sharp
Model:

SH-2487
Year:

NEW
Ref #:

136902
Or call us for a quote at (973) 497-7500 or send us an email at grinders@machineryvalues.com
---
NEW SHARP MODEL SH-2487 HYDRAULIC SURFACE GRINDER
STANDARD EQUIPMENT:
Coolant System (25 Gal.)
Wheel Balancer
Wheel Balancing Stand & Arbor
Ballscrew on Cross Feed
Electronic Cross feed & Stroke Setting
Wheel Flange
Grinding Wheel (14" x 2 " x 5")
Auto Lube System
Spindle head Rapid Up & Down
Wired 220V or 440V. Please specify
Splash guard both front and back ( not shown on photo)
Tool Kit
** note, please order one of the magnetic chucks in the option list. This grinder does not work without it.
FEATURES:
Extra Length Table & Bed Ways:
The table ways are made 70% longer than the length of the working surface to prevent distortion and deflection. The length of the bed ways are twice the table ways. This design ensures against overhang of the table working surface.
All Longitudinal and Crossfeed Ways are hand-scraped and Turcite coated for high wear resistance and super smooth table movement
2-Axis Automatic (X,Y)
High Precision Spindles are supported by multiple anti-friction bearings, which are adjusted both Radially and Axially, and are permanently sealed with a high quality grease.
Runout of Taper Nose is less than 0.0001" T.I.R. The spindle and Motor assembly is Dynamically Balanced to reduce vibration.
The Patented Design of the Crossfeed Motor uses a solid state relay, and requires little or no maintenance during the life of the machine.
The Mechanical directional Valve is designed to prevent any table reversal shock.
2 or 3-axes Auto
10 HP Motor
Spindle Speed 1,720 rpm
A special Hydraulic System is used, which is a free-standing unit isolated from the grinder:

The heat from the hydraulic oil does not affect grinder performance
Any vibration from the hydraulic pump is isolated from the grinder
A mechanical directional valve provides super smooth table movement with no table reversal shock
Cartridge type oil filters are used, making the oil cylinder and directional valve virtually maintenance-free, for a full five years
Twin single-action hydraulic cylinders and piston rods make table motions rigid and stable. Table distortion is nonexistent.
SPECIFICATIONS:
Capacity
Table Travel: 24.8" x 92.5"
Spindle Center to Table Surface: 27.6"
Table
Working Surface (W x L): 23.6" x 86.6"
Longitudinal Hydraulic Table Feed: 39.4-984 FPM
Feed
Intermittent Cross Feed: 0.04-0.6 IPM
Continues Cross Feed (Ball screw): 94.5PM
Number of graduations on dial: 200
Feed per Graduation: 0.001"
Feed per Revolution: 0.200"
Vertical Travel
Number of Graduations: 100
Feed per Graduation: 0.0001"
Feed per Revolution: 0.010"
Rapid Downfeed (optional): 7.9 IPM
Wheel Size (OD x Width x ID): 14" x 2" x 5"
Spindle Motor: 10 HP
Approximate Weight: 26,600 lbs.
Machine dimensions: 244.1" x 111.4" x 116.5"
Packing Crate Dimensions: 21' x 7.5' x 8.5'
Total Power Consumptions:
220V 15.84KVA/68 amps
440V 15.84KVA/34 amps
OPTIONAL ACCESSORIES:
24" x 87" Kanetsu Electromagnetic Chuck w/control
Coolant System w/paper filter and mag. Separator, 30 G tank
Parallel Dressing (Manual)
Parallel Dressing (Semi-Automatic) (Factory Installed only)
440 V Transformer – 3HP (for Micro Control Downfeed System)
Touch screen Programmable Microprocessor Control Spindle Downfeed system with Z axes motion control
Dresser compensation package & auto parallel dresser installed, must buy
Require SH -11-1 downfeed control together
(440V machines need transformer for programmable micro control downfeed system.)
Spare Flange
Spindle motor inverter in lieu of AC motor ( with this option, we can add bigger wheel to 16" and lower the speed to 1450 rpm)
16" x2"x5" wheel in lieu of 14"x2"x5"
Mist collector
DRO
*** (440V machines need transformer for programmable micro control downfeed system.)
** LARGER SIZES AVAILABLE, PLEASE CALL FOR DETAILS **
---
DISCLAIMER: The information presented in the write ups and the photographic representations of the equipment are believed to be accurate at the time the pages are created. The information presented on the web site should not be used for formal quotation. Price and information presented in the write ups on the web site are subject to change without notice. Machinery Values claims no responsibility for inaccuracies of the information presented on the pages of this website. Please contact one of our sales representatives if you require more information or a current formal quotation.
We're here to help
Looking for a specific machine?
Address
401 Supor Blvd.
Harrison, NJ 07029
Phone
Voice: (973) 497-7500
Fax: (973) 497-7501
Email
sales@machineryvalues.com
Address 401 Supor Blvd.
Harrison, NJ 07029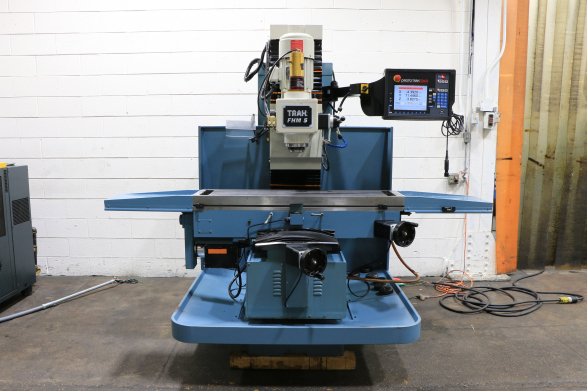 Subscribe to Receive our Most up to Date Machinery Listings
For our latest machines and inventory, sign up to receive our weekly email to be first to bid on a machine.