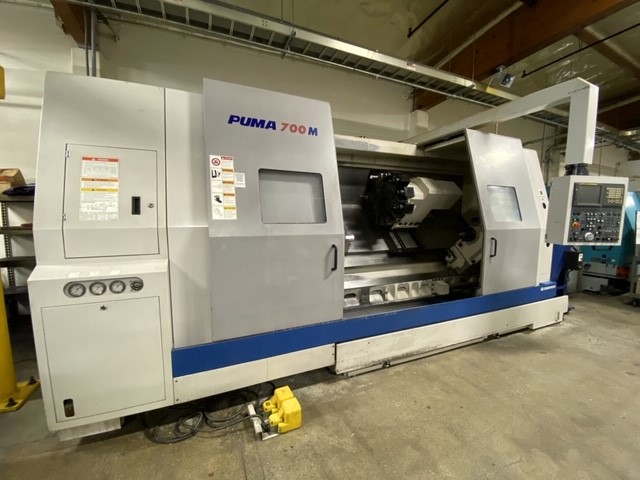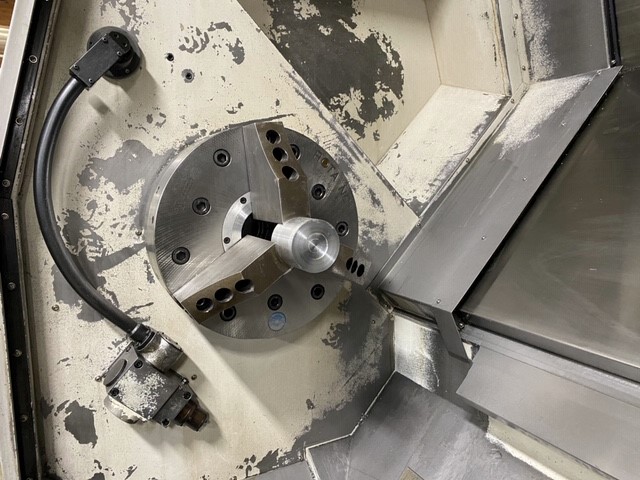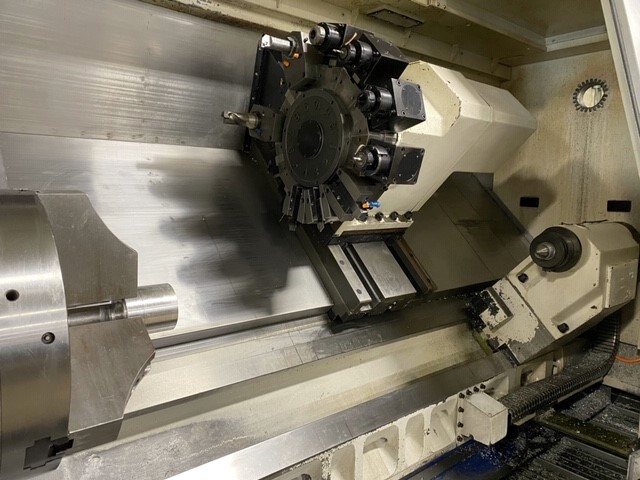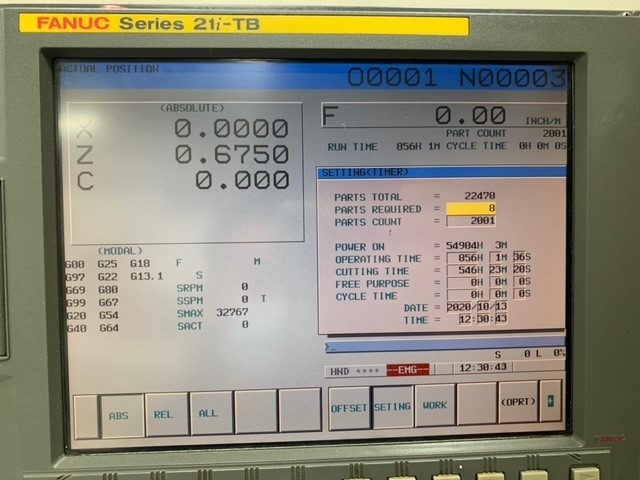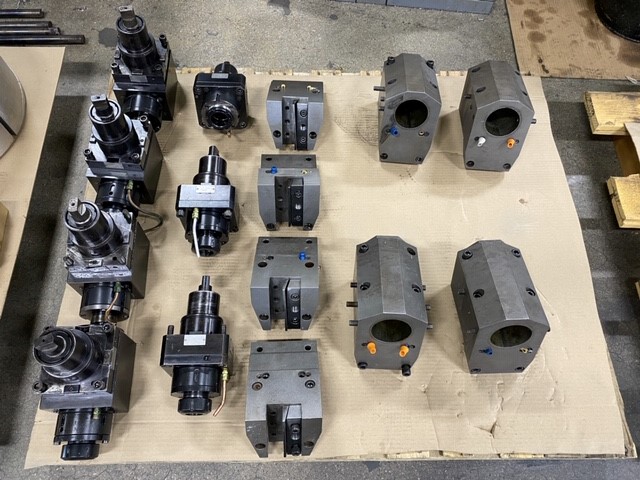 Daewoo PUMA 700M CNC TURNING CENTERS - CNC LATHES
Price on Request
Make:

Daewoo
Model:

PUMA 700M
Year:

2005
Ref #:

160233
Or call us for a quote at (973) 497-7500 or send us an email at cncmachines@machineryvalues.com
---
DAEWOO CNC TURNING CENTER
MODEL: PUMA 700M, NEW: 2005
SPECIFICATIONS:
X AXIS TRAVEL: ............... 18.5"
Z AXIS TRAVEL: ............... 65"
COOLANT PUMP ................. 145 PSI
CHUCK ........................ 20" SCHUNK
MAXIMUM TURNING DIAMETER: .... 35.4"
DISTANCE BETWEEN CENTERS: .... 76.8"
SPINDLE SPEED: ............... 3 - 1,500 RPM
SPINDLE NOSE: ................ A1-15
DRAW TUBE I.D.: .............. 6.55"
NUMBER OF TOOLS: ............. 12
TURNING TOOL SHANK SIZE: ..... 1.25"
BORING BAR DIAMETER: ......... 3.0"
ROTATING TOOL RPM: ........... 30 - 3,000 RPM
ROTATING TOOL SPINDLE MOTOR: . 15 HP
ROTATING TOOL TORQUE: ........ 103.5 FT-LBS
ROTATING TOOL HOLDER TYPE: ... BMT 85
ROTATING TOOL COLLET TYPE: ... ER 50
MILLING COLLET CAPACITY: ..... 1/4" TO 1 3/8"
TAILSTOCK QUILL DIAMETER: .... 6.3"
TAILSTOCK QUILL STROKE (PROGRAMMABLE): 5.9"
MAX TAILSTOCK QUILL THRUST ... 7,150 LBS
MAX HYDRAULIC PRESSURE ....... 580 PSI PROG.
TAILSTOCK BODY STROKE: ....... 61"
EQUIPPED WITH:
3 LIVE TOOL HOLDERS (X)
4 LIVE TOOL HOLDERS (Z)
COLLET CHUCK HARDINGE S-50 MASTER WITH 8 SETS OF PADS
11 SETS OF ALUMINUM PIE JAWS
14 SETS OF STEEL JAWS
6 TURNING HOLDERS
5 DRILLING OR BORING HOLDERS
FEATURES:
POWERFUL 60 HP SPINDLE MOTOR
LARGE SPINDLE BORE
HIGH SPEED SPINDLE
PROGRAMMABLE HIGH / LOW CHUCKING PRESSURE HEAVY DUTY, NON LIFTING, BI-DIRECTIONAL TURRET FAST 0.35 SECOND TURRET INDEXING ONE-PIECE 45 DEGREE TORQUE-TUBE SLANT BED GEARED HEADSTOCK SOLID BOX WAY CONSTRUCTION FLUROPLASTIC ANTI-FRICTION MATING WAY SURFACES SEPARATE COOLANT TANK DOUBLE ANCHOR PRETENSIONED X AND Z AXIS BALL SCREWS FAST 630 IPM RAPID TRAVERSE (400 IPM ON LONG BED) PROGRAMMABLE TAILSTOCK BODY AND QUILL AUTOMATIC TOOL SETTER HEAVY DUTY TAILSTOCK WITH BUILT-IN CENTER TORQUE LIMITER BALL SCREW PROTECTION UP TO 9,580 POUNDS OF Z AXIS THRUST LARGE 35.4" TURNING DIAMETER
65 PSI COOLANT SYSTEM
METERED PISTON DISTRIBUTOR LUBRICATION
WAY LUBE SEPARATION SYSTEM
CHIP CONVEYOR
FACE AND SIDE MILLING, DRILLING AND TAPPING CAPABILITIES
0.001 DEGREE SPINDLE INDEXING
RIGID BASE MOUNTED TOOLING (BMT) SYSTEM
RIGID TAPPING WITH ROTARY TOOLS
POWERFUL 15 HP ROTATING TOOL SPINDLE MOTOR FAST 3,000 RPM ROTATING TOOL SPEED ALL 12 STATIONS ACCEPT ROTATING TOOLS
7 ROTATING TOOL HOLDERS
---
DISCLAIMER: The information presented in the write ups and the photographic representations of the equipment are believed to be accurate at the time the pages are created. The information presented on the web site should not be used for formal quotation. Price and information presented in the write ups on the web site are subject to change without notice. Machinery Values claims no responsibility for inaccuracies of the information presented on the pages of this website. Please contact one of our sales representatives if you require more information or a current formal quotation.
We're here to help
Looking for a specific machine?
Address
401 Supor Blvd.
Harrison, NJ 07029
Phone
Voice: (973) 497-7500
Fax: (973) 497-7501
Email
sales@machineryvalues.com
Address 401 Supor Blvd.
Harrison, NJ 07029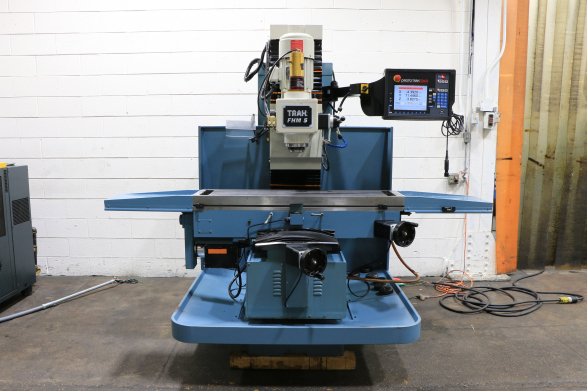 Subscribe to Receive our Most up to Date Machinery Listings
For our latest machines and inventory, sign up to receive our weekly email to be first to bid on a machine.